Introduction
In this report, our twimbit analyst team helps Chief Executive Officers (CEO), Chief Product Officers (CPO), and business unit leaders of existing neobanks like you to understand the importance of a robust product stack in the digital banking space. We outline the best practices of the top 10 neobanks in APAC that deliver exceptional banking experiences to support their customers' journeys.
The boundaries of traditional banking dissipate as neobanks embed products in the customers' day-to-day journeys, creating a foundational shift from providing products to building enriched experiences. However, to make experiences that go beyond a banking journey, CEOs, CPOs and business unit leaders must continuously innovate and develop radically differentiated products in the market.
We have to note, though, that building innovative and differentiated products do not directly translate into increased revenues, profitability or a healthy bottom line to continue operations in the future. Shifting from traditional high margin products to low margin, high volume, and ecosystem-driven products challenges profitability. Therefore, as a leader of a neobank, you must make a strategic decision on how a unique product will help orchestrate unique customer experiences and eventually gain a greater share of overall customers.
Our methodology:
Step 1: We analysed 58 retail neobanks across 13 countries in APAC.
Step 2: We developed a framework to categorise 85 products into ten distinct product categories (Figure 1). At the same time, we built informed perspectives through information collected from the neobanks' websites, banking applications, social media handles, press releases, and published external literature.
Figure 1: Comprehensive product stack of a neobank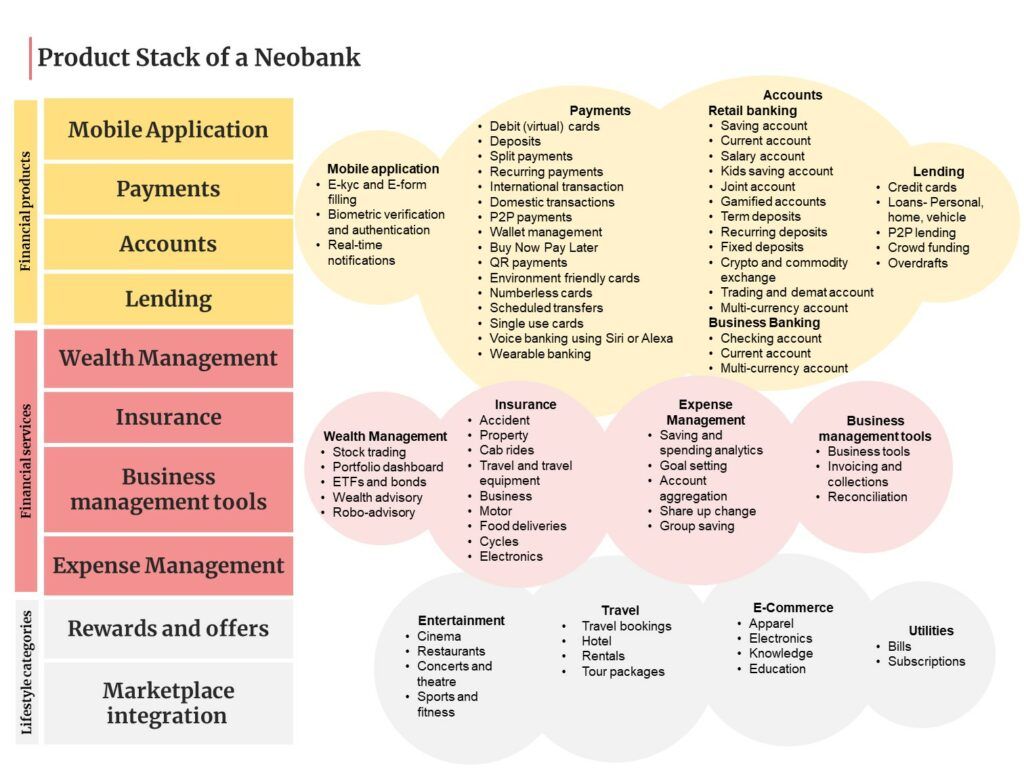 Step 3: We shortlisted the top 10 neobanks based on the uniqueness and innovativeness in eight product categories for retail customers (refer to Table 1).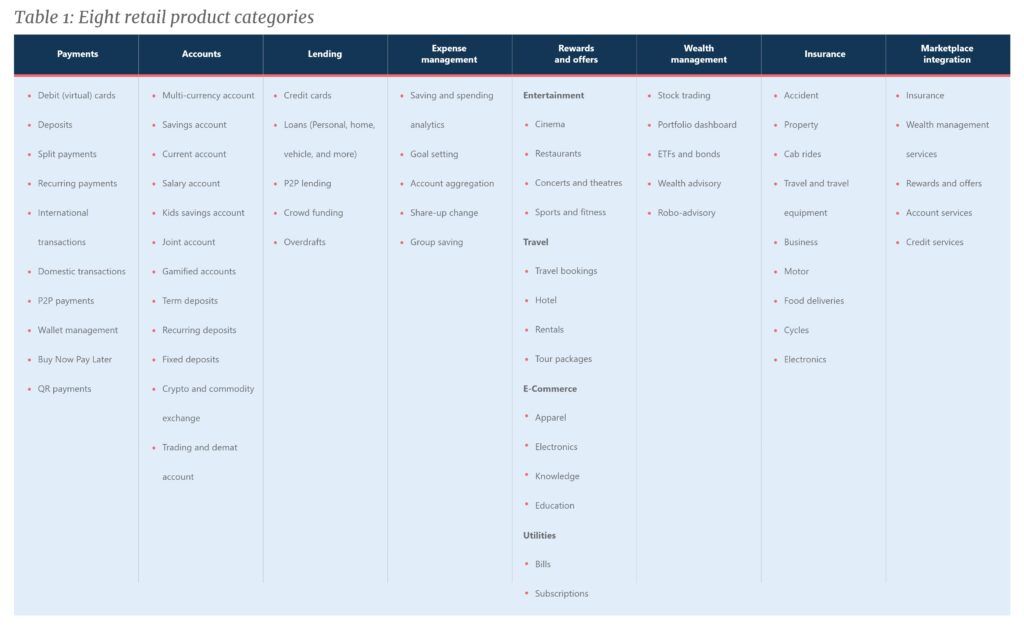 Step 4: We divided five of the eight product categories with the highest degree of maturity and innovation into 3-7 sub-parameters for capturing essential and unique features (Table 2).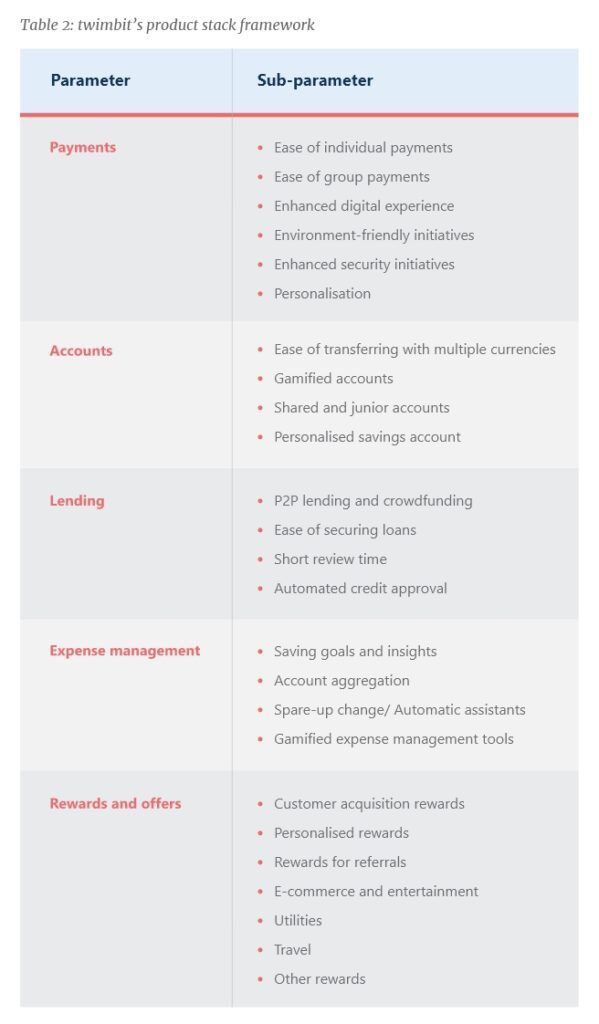 Step 5: We assessed the 59 neobanks based on the twimbit product framework and finalised out the top 10 retail neobanks that are acing product innovation in the Asia-Pacific.
Research caveat: Limited to secondary sources and publicly declared information by the companies.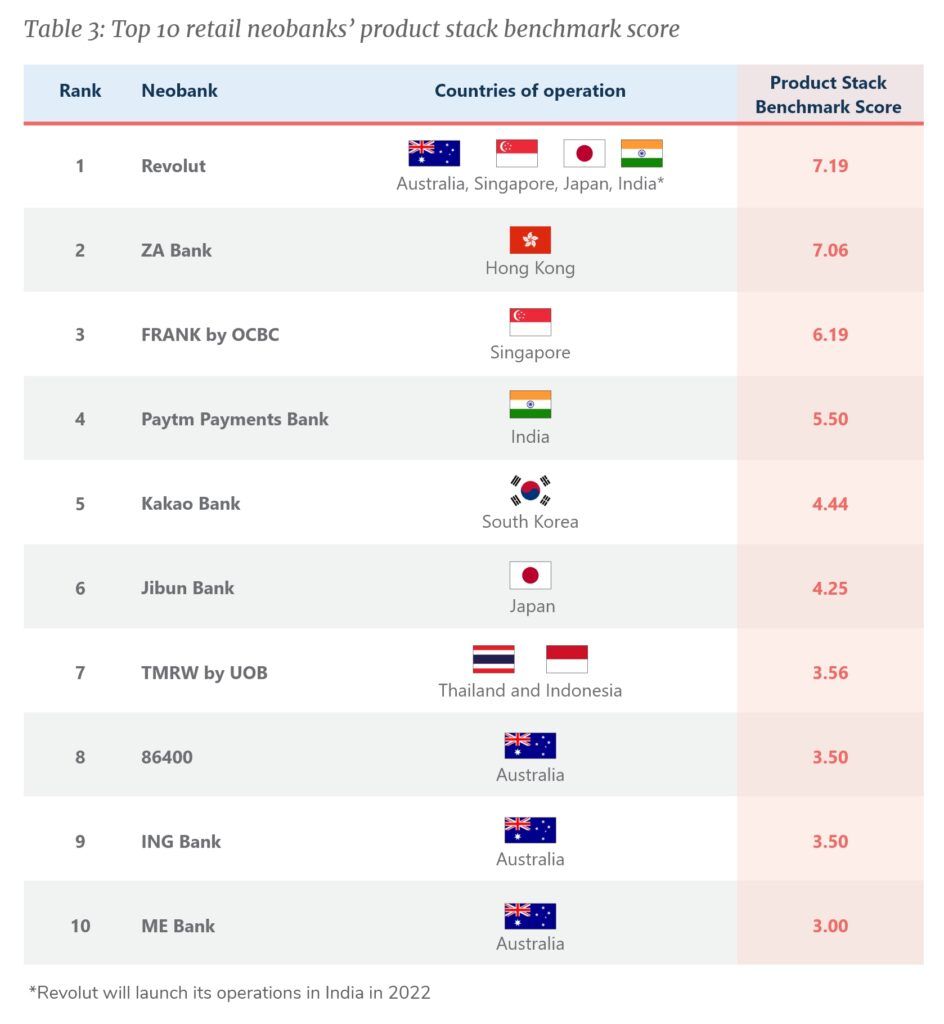 The eight-parameter analysis:
Parameter 1: Payments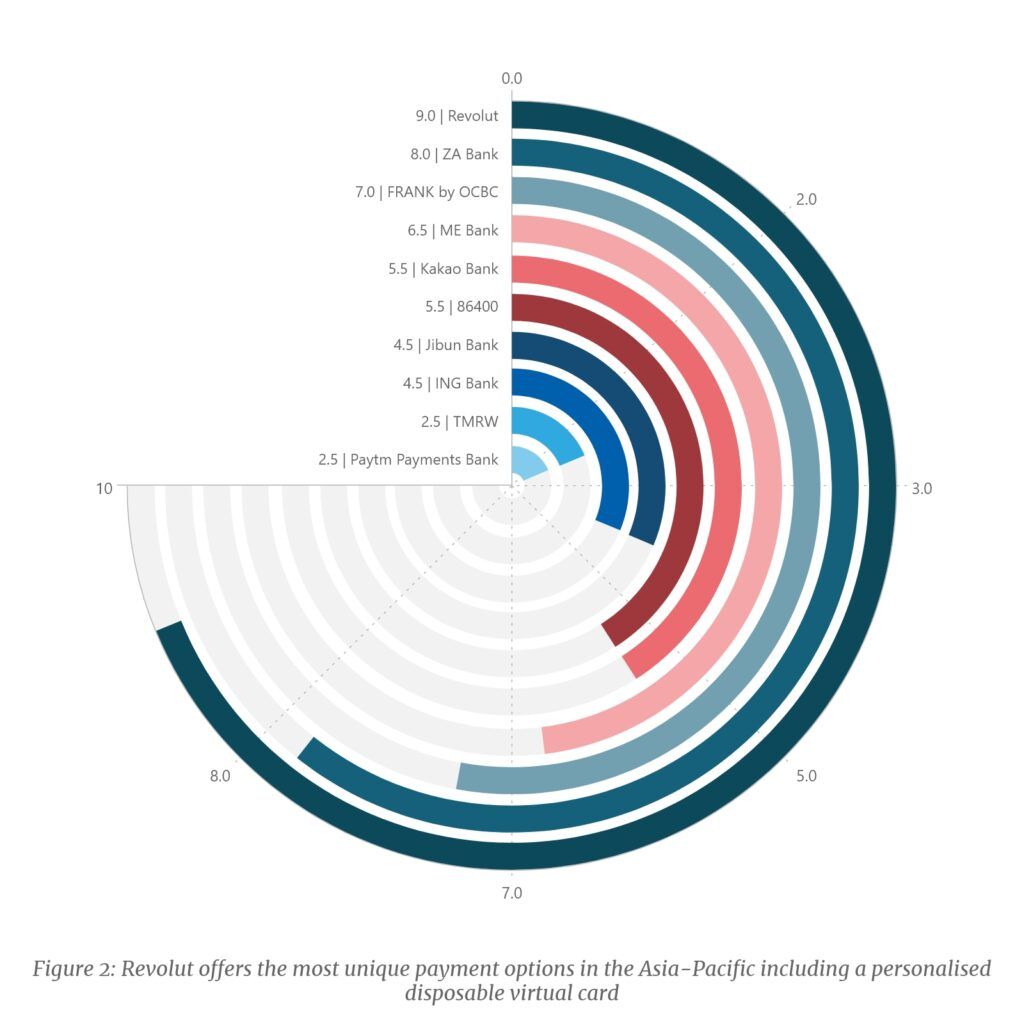 Leaders
Revolut
ZA Bank
FRANK by OCBC
Ease of individual payments:
Multi-currency cards and international transfers: These cards allow users to transact and spend in multiple foreign currencies in addition to the domestic currency.
Recurring payments: Customers can instruct the neobank to automatically transfer funds from their accounts to the merchant's account at regular intervals, avoiding late payments and penalties.
Scheduled transfers: Customers can schedule one-time payments to occur at a specific date in the future.
Contactless payments: Customers can simply wave their card to make a payment instead of swiping the card, entering the PIN or signing.
QR payments: Quick Response (QR) code payments is another contactless payment method where customers can make payments by scanning a unique QR code using their smartphones.
SMS banking: Users can simply send a message with details of the amount to be transferred and other account details to their neobank's SMS banking number.
Bill payments and subscriptions: Some neobanks offer customers a one-stop solution to manage and track their paid and upcoming bills and subscriptions.
Alternate ID: Customers can simply transfer money to other bank users with an alternate bank ID instead of remembering complicated account numbers and bank codes.
Buy Now Pay Later (BNPL): Instead of paying the entire sum upfront, customers can purchase now and opt to pay in instalments over time.
Multi-use card: Some neobanks offer their customers a multi-use card that customers can use as a debit card, credit card, transportation card, ATM card, etc.
In-app verification: Instead of waiting for OTPs, customers can now simply log onto their mobile banking app to confirm their transactions. This step ensures that the payment experience is simple, easy, and safe.
Ease of group payments:
Split payments: The hassle of dividing bills would reduce with a split payment option. Customers can easily divide the bill and send a push notification when they need their friends or family to pay them. Moreover, some neobanks allow customers to create groups with different people to add, track, split, and settle bills, all within the same application.
Enhanced digital experience:
Voice transfer: Banks are building voice-enabled banking services to simplify Peer-to-Peer (P2P) transfers. Users can instruct their digital assistants to send money through a voice-user interface that uses speech recognition to understand the commands spoken by the customer. To ensure a safe and secure transaction, customers may be required to authenticate the transaction with biometric verification or passcode.
Wearable technology: Neobanks are building on wearable technology to embed themselves directly into their customers' everyday lives. The neobanks integrate their services to digital wallets such as ApplePay, GooglePay, FitbitPay, Garmin Pay, etc. These digital wallets allow customers to make payments on devices such as smartwatches, mobile phones, and tablets. It acts as a digital alternative to physical cards and enables contactless payments using the wearable device. Customers can approve these transactions using Touch ID, Face ID, or a PIN.
Smartphone withdrawal: Contactless cash withdrawals enable customers to withdraw cash at select ATMs using their smartphones. They no longer have to carry multiple cards and remember different PINs. Instead, customers just need to scan a unique code on the ATM screen from the neo banking mobile app to withdraw cash.
Environment-friendly initiatives
Biodegradable card: To reduce the amount of plastic waste generated, neobanks have started offering biodegradable cards made from recyclable materials such as wood, paper, fruit pulp and so on as an alternative to plastic ATM cards.
Enhanced security initiatives:
Single-use/ disposable cards: A disposable virtual card destroys the user's card details and creates new information for every transaction. These cards improve security and reduce CNP (Card-Not-Present) frauds. However, these virtual cards are not suitable for online subscriptions and recurring payments, as the card details expire after every transaction.
Numberless cards: Neobanks are adopting numberless cards by eliminating sensitive information, i.e., card numbers, CVVs, expiry dates, and even signatures, to avoid fraudulent activities.
Personalisation:
Neobanks give customers complete control over their finances. They often provide various options that customers can customise to meet their needs. Some of these include:
Setting spending limits
Choosing card colours or designs
Choosing a card number
The option to enable or disable magstripe payments, contactless payments, ATM withdrawals, GPS, and e-commerce transactions based on their preferences
Top initiative: Revolut
Personalised virtual cards and disposable virtual cards: Customers can personalise their security settings by disabling magstripe payments, contactless payments, ATM withdrawals, and e-commerce transactions based on their preferences. Moreover, they can also turn on the location-based security feature which monitors your location to detect and prevent any fraudulent transactions. For example, if a transaction from your account is made in India while you are in Japan, then the transaction and card are blocked. Their disposable virtual card destroys the user's card details and creates new details for every new transaction. This enhances security and reduces CNP (Card-Not-Present) frauds. However, these virtual cards are not suitable for online subscriptions and recurring payments.
Parameter 2: Accounts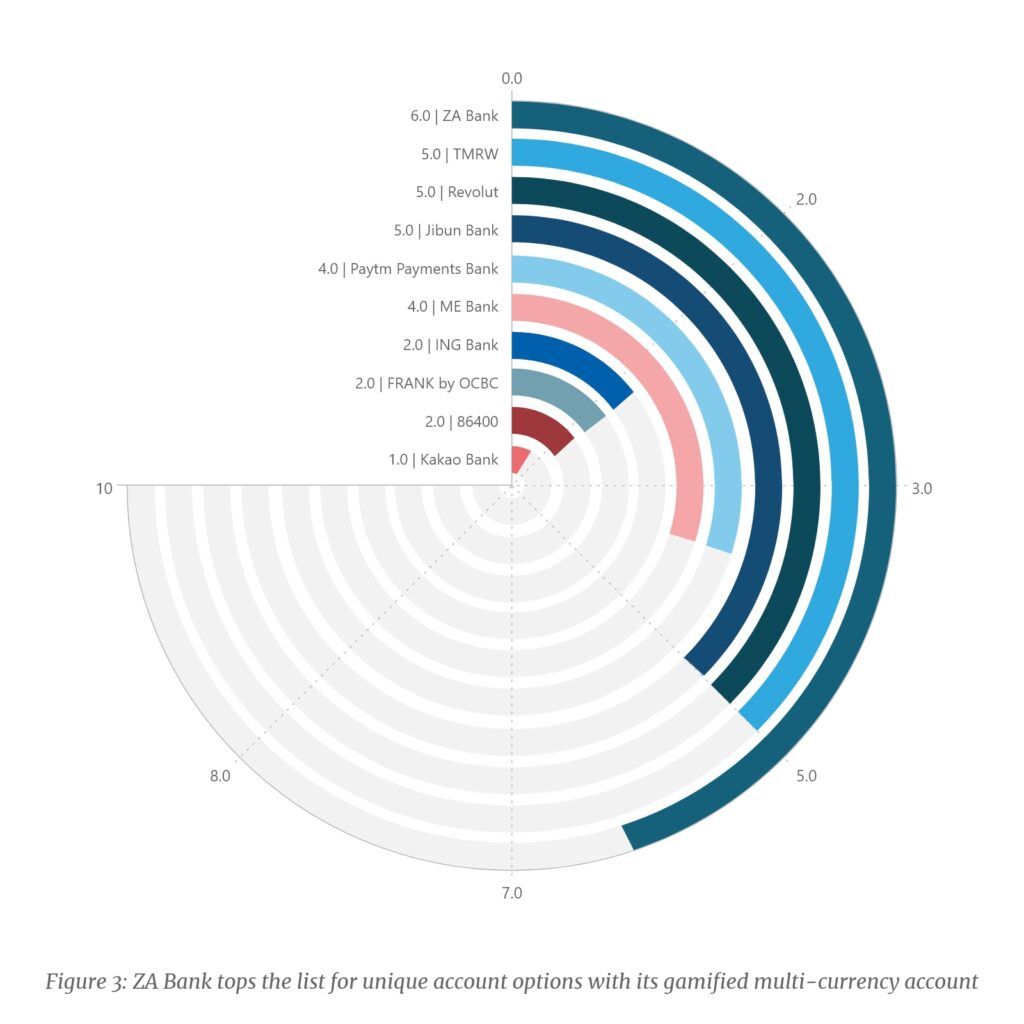 Leader
Multi-currency account: This feature allows account holders to store and transact using various currencies in addition to the domestic currency.
Gamification: Neobanks have been applying gamification strategies to make mundane and complex financial tasks easier to perceive and enrich their customers' banking experience. Unlike standard accounts, gamified accounts will be in the form of a game with a superior UI-UX design.
Personalised saving account: To give customers complete control over their banking journeys, some neobanks allow their customers to choose the account services and rewards they wish to get from the bank and disable the other features.
Shared and junior accounts: Shared accounts allow customers to create a joint account with one or more people to manage and track shared expenses and transactions. A junior account is a savings account exclusively for children below the age of 18. While children can use their accounts as regular savings accounts, parents can monitor and manage all the expenses from their mobile banking application.
Top initiative: ZA Bank
Multi-currency accounts: ZA offers a multi-currency account that allows customers to spend, save, and exchange currencies in three different currencies- HKD, CNY, and USD. The account enables customers to conduct their retail and business activities across different countries easily. In addition, customers also get personalised insights and recommendations based on their spending and saving patterns for each currency.
Parameter 3: Lending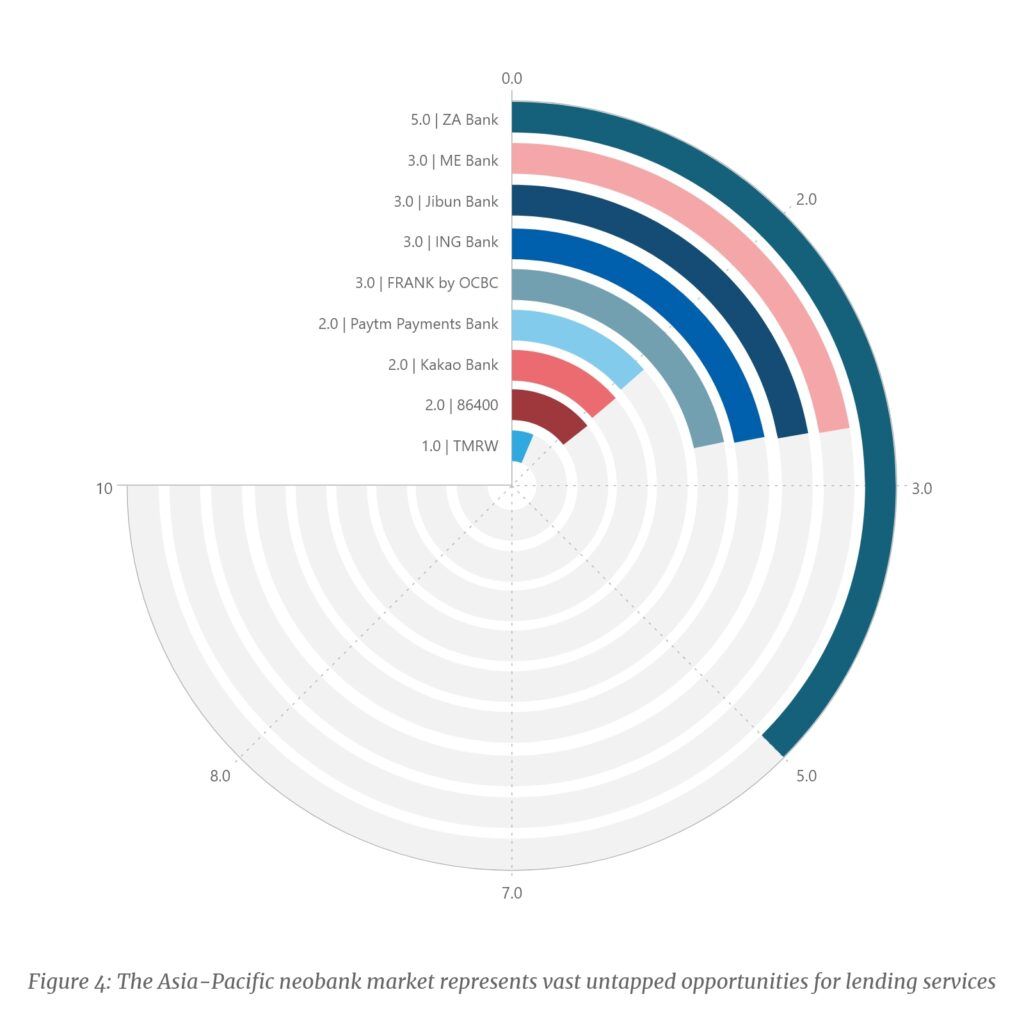 Leader
P2P lending and crowdfunding: P2P (Person to Person) lending allows users to obtain loans directly from other individuals instead of approaching a financial intermediary. Neobanks will match lenders to borrowers based on their requirements. The absence of financial intermediaries allows borrowers to enjoy a lower interest rate and lenders a higher one. Crowdfunding is an alternative to lending a huge sum from a single borrower. Customers can fund their projects, ventures, or companies by raising small amounts of money from a larger crowd. Neobanks may establish their crowdfunding options on rewards, equity, debt or donations.
Short review time: As technology-first entities, neobanks use AI-ML (Artificial Intelligence and Machine Learning) technologies to access their customers' creditworthiness and default probability, especially those without credit histories. These capabilities help neobanks capture previously disregarded segments- rural and SMEs.
Easy online application and verification: Neobanks adopt e-form filling and e-verification features to simplify customer loan application and identity verification processes. Some banks even allow customers to apply for a loan through instant messaging and conversational AI chatbots.
Automated credit approval: Credit scoring automation drastically reduces the time taken to review and disburse the loan. The neobank instantly notifies its customers about the status of their application through the neobank's mobile application.
Top initiative: ZA Bank
30 Minutes Pledge: ZA bank commits to providing the approval status of a customers' loan application within 30 minutes after they submit all the required documents. If the bank fails to do so, the user will then get HKD10 (USD 1.29) for every minute of overtime, up to HKD500 (USD 64.35).
Parameter 4: Expense management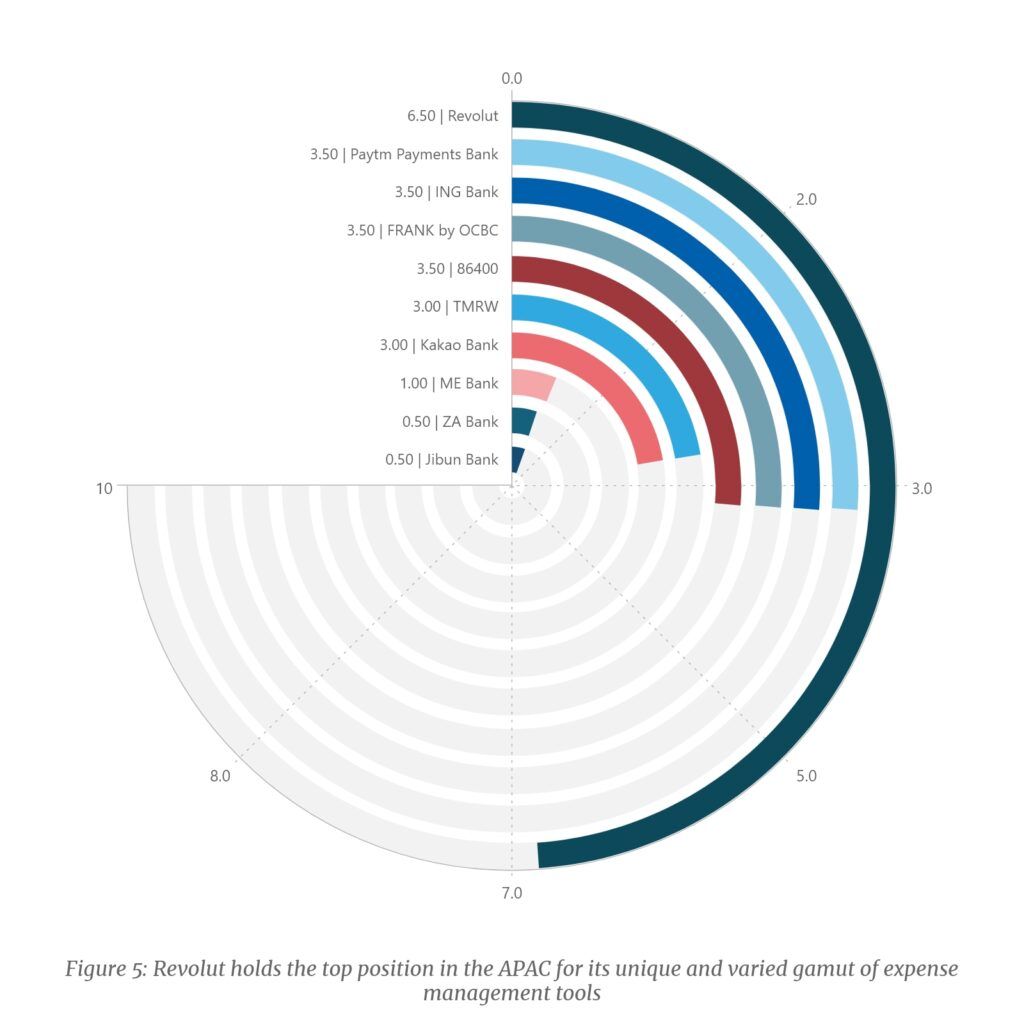 Leader
Individual and group saving: Neobanks use the power of AI-ML technologies to study customer spending patterns and offer them financial insights, plans, and recommendations. Users can also create individual or group accounts with different individuals to deal with group-related expenses such as family expenses, rental sharing and so on.
Account aggregation: Account aggregation allows customers to compile, analyse, and interpret all their financial activity from different bank accounts into one centralised dashboard.
Spare up change/ Automatic assistants: Customers can meet their saving goals by granting permission to round up their respective transactions to the nearest dollar (or other units) and transfer the rounded-up amount to their savings. For example, when a customer purchases a shoe for USD 4.80, they will be debited for USD 5. The bank transfers the remaining USD 0.20 to the customer's savings goal.
Automatic assistants: Customers can give banks a set of instructions to automatically set aside an amount for bills, savings goals, emergency funds, and more.
Gamified expense management tools: Gamification of money management tools encourages customers to spend and save more. Customers win rewards for completing tasks or achieving saving goals in each level of the game.
Top initiative: Revolut
Revolut vaults: Users can create savings vaults to achieve their financial goals, individual vaults to achieve personal goals or group vaults with family members or friends to achieve group savings goals. Revolut also offers users unique options to achieve their savings objectives:

One-off payments
Recurring payments
Spare-up change
Convert spare change to cryptocurrency
Figure 6: Personalised saving vaults Revolut has for its retail customers
Parameter 5: Rewards and offers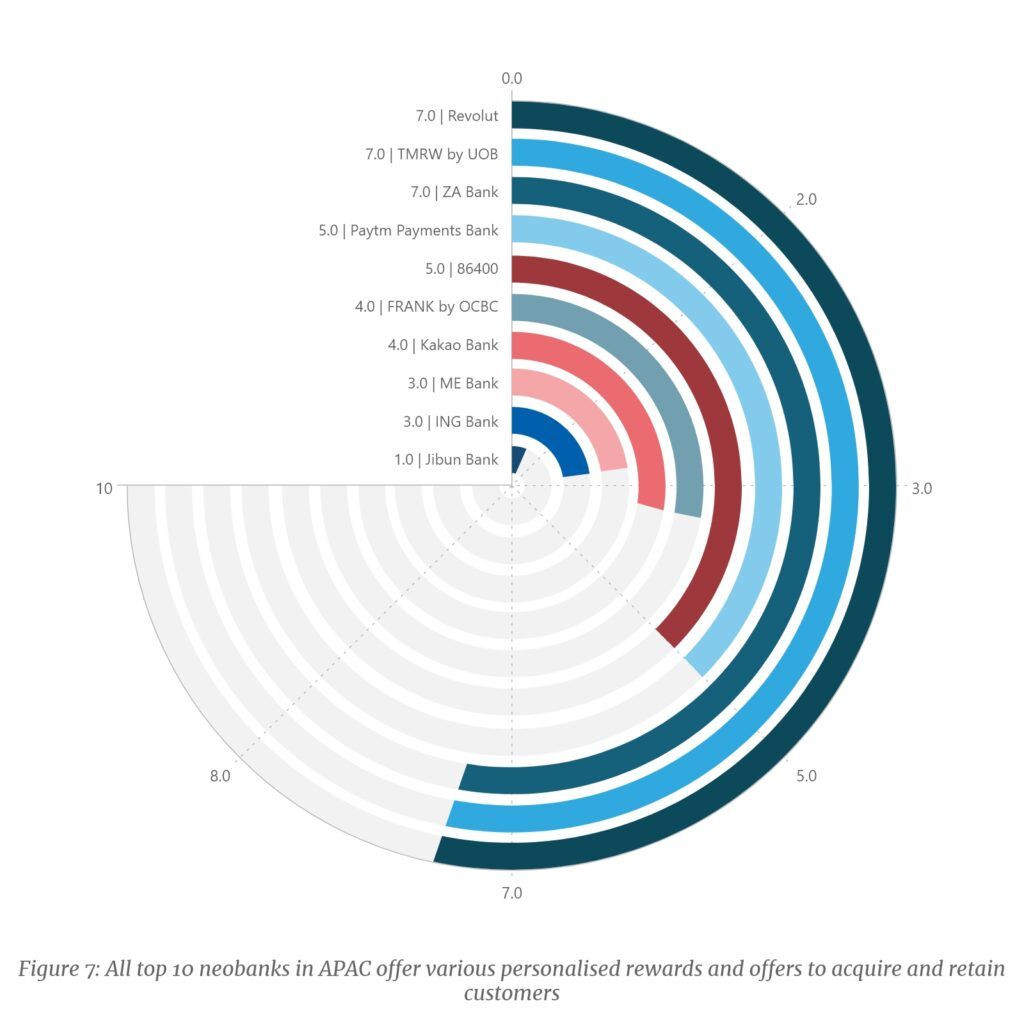 Leaders
Revolut
ZA Bank
TMRW by UOB
Customer acquisition rewards: Neobanks encourage people to open a new account by offering rewards, cashback, or discounts. Customers may be required to perform a few tasks after opening the account to win these rewards.
Rewards for referrals: A referral rewards programme is a marketing strategy neobanks use to increase their market reach. A customer can earn rewards when their friends or family apply their personal referral code or when they use their friend's referral code to open a new account with the neobank.
Personalised rewards: Neobanks may offer personalised rewards and offers based on the customer's spending pattern. Moreover, some banks allow customers to choose a limited number of categories of their preference to get offers.
Rewards for spending: Neobanks integrate third-party services providers that offer various discounts and deals. Examples include discounts on e-commerce websites, utilities, entertainment, and travel. In addition, customers may also receive personalised reward points or complimentary gifts.
Examples:

Complimentary airport lounge access for choosing a particular type of credit card
Redeemable reward coins for spending USD 500 a month

Other rewards: Other rewards include loyalty bonuses, rewards collected by participating in challenges and quizzes, rebates for spending or transferring a specified amount, and rewards for spending on different categories apart from utilities, e-commerce, entertainment, and travel.
Top initiative: Revolut
Revolut Shopper: In 2021, Revolut launched its browser extension- Revolut Shopper- that automatically finds and applies discounts and deals at selected retailer websites. The extension includes discounts on e-commerce websites, utilities, entertainment, and travel. Moreover, customers can get up to 42% cashback at select brands, including Apple, Nike and Myprotein.
Parameter 6: Wealth management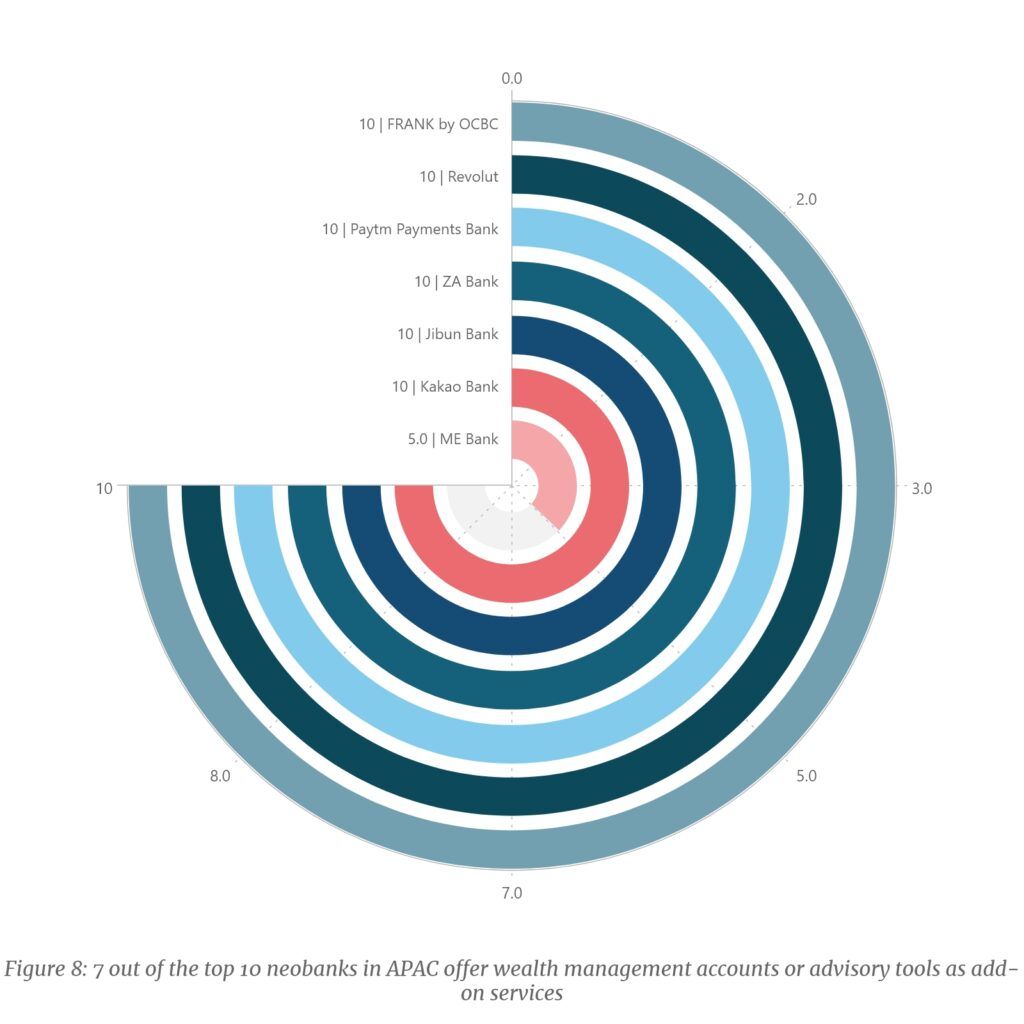 Leaders
FRANK
Jibun Bank
Revolut
Kakao Bank
Traditionally, incumbent banks have offered various stock market services that require customers to open an autonomous wealth management account with a dedicated banking application. These accounts usually have heavy investing minimums and commission rates. Neobanks instead integrate various wealth management services as add-ons to their main banking application, delivering a hassle-free and economical alternative to traditional wealth management services. Customers can track all their financials in a single app. In addition to standard stock and commodity accounts, neobanks have been integrating cryptocurrency trading features to their application to leverage the massive popularity and demand for cryptocurrencies across APAC.
Furthermore, to create a personalised experience, neobanks are employing AI-ML technologies to build unique robo-advisors. The robo-advisors focus on delivering tailor-made recommendations, analysis, and insights to satisfy customers' individual needs and pain points.
Top initiative: FRANK by OCBC
FRANK by OCBC's RoboInvest: RoboInvest is a platform that guides an investor through their investment journey by offering personalised insights and recommendations using AI-ML technologies. Customers have access to 34 thematic portfolios that consist of various stocks, exchange-traded funds (ETFs) and equities. They can choose their preferred investment options based on region, risk level, and annualised return. RoboInvest offers a unique automatic "rebalancing" feature that automatically changes the constituents of the portfolio upon approval every few months to realise maximum benefits.
Parameter 7: Insurance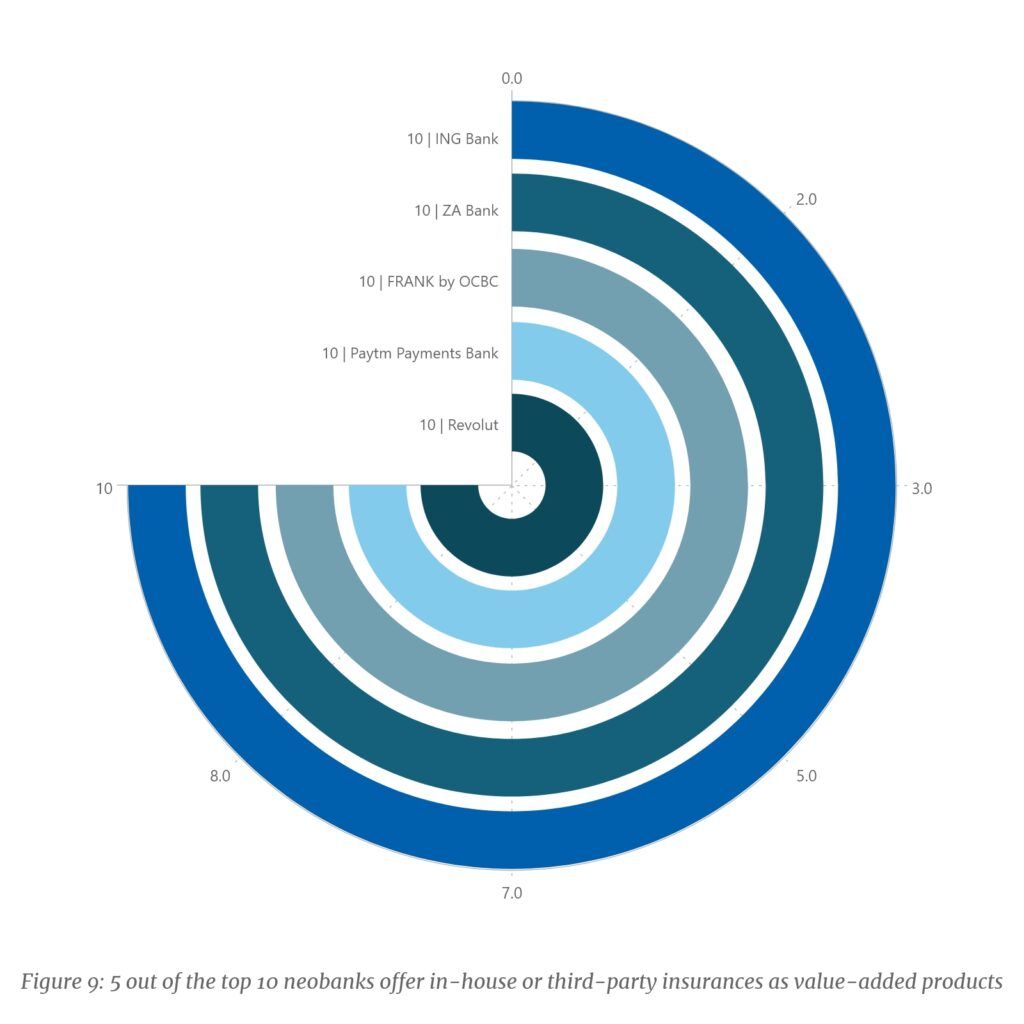 Insurance is one of the major initiatives under neobanks' cross-selling strategies to drive sales and increase customer base. Neobanks offer both standard and bite-sized insurances. Bite-sized insurance plans are for temporary needs. They cannot substitute for major contingencies such as medical, car, housing, and so on. Insurance, however, does not have to be an in-house product. As such, neobanks have partnered with leading bancassurance service providers to offer insurance services.
Top initiative: ING Bank
ING Bank Australia offers its customers a variety of insurance options. Customers can pay the insurance premiums using their mobile application and even set a recurring payment. ING Bank offers the following types of insurances with offers on the first year's premium:

a. Car insurance
b. Home and contents insurance
c. Pet insurance
d. Travel insurance
e. Motorcycle insurance
Parameter 8: Marketplace integration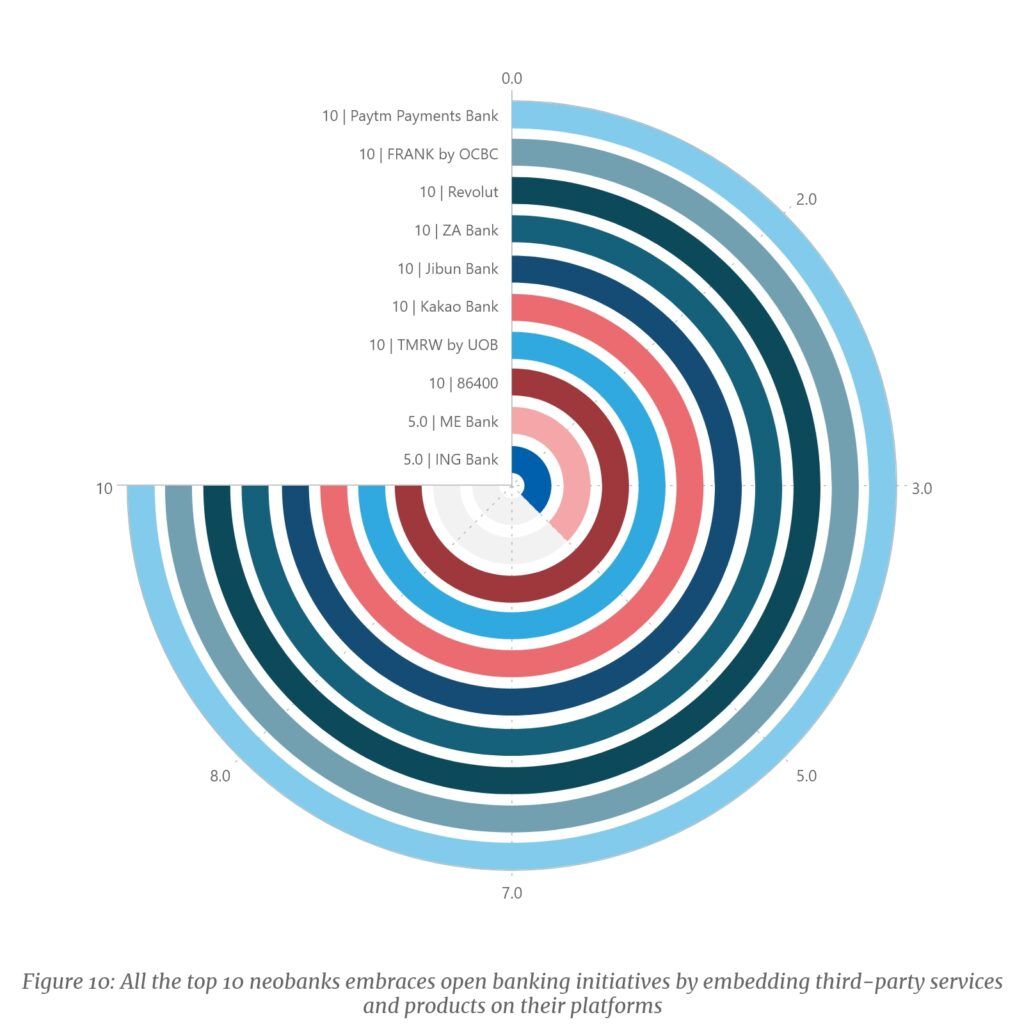 All of the top 10 neobanks in the Asia-Pacific are adopting a structured and regulated open banking system. This allows platform-based banks to establish a marketplace for multiple third-party players to integrate their services in a single mobile application. This ecosystem drives the engagement on the platform as customers can consume more services in one place, rather than juggling between multiple applications for their financial needs.
Top initiative: Paytm Payments Bank
Mini app store: In 2020, Paytm launched a Mini App Store to support Indian entrepreneurs and developers who do not want to pay a hefty amount to develop a mobile application and commissions to the app stores. These mini apps are not full-fledged mobile applications; they are custom-made and web-optimised websites that act like native apps. The capability also helps users save data and memory on their smartphones. With more than 600 mini-app service providers and 15 million customers, the company's mini app store truly resonates with the spirit of technological innovation and open banking initiatives. With the launch of the Mini App Store, Paytm has a market reach with over 15 million users on the Mini App Store alone The application developers have various payment options to choose from:

Zero charge payment options: Paytm Wallet, Paytm Payments Bank, and UPI
2% charge option: Net banking, credit cards and debit card



Moreover, the Paytm Mini App Store also offers business growth insights for the vendors with the following features:

a. A dashboard to track all payments

b. An option to initiate refunds

c. Download transaction reports
The way forward
"The challenge is, how do you get customers to switch to trust you when you haven't got any history and you haven't got any trust. It grows over time,"– Chris Skinner, Fintech Expert
The competition among the incumbent banks, technology giants, and fintech startups intensifies in the Asia-Pacific neo banking landscape. As the demands and needs of the customers evolve dynamically, the challenge lies in continuously improving customer experience and integrating themselves into every aspect of a customer's life.
Neobanks need to voice a commitment to delivering an end-to-end banking experience with ease of availability of financial products, digitally-enhanced features, excellent customer services, and resilient security measures in the increasingly competitive environment. They can do so by following a three-step approach: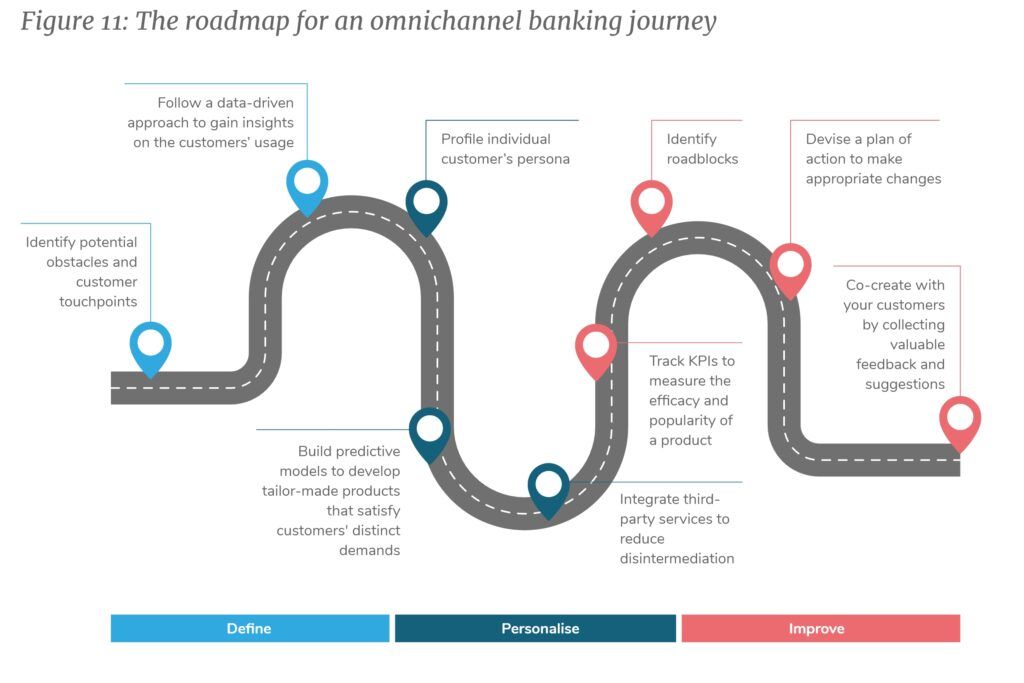 Map customer journey:
To emerge as neo banking leaders of the future, you have to embed yourself in your customer's life by identifying the demands and needs they have at every stage of their life (Figure 3).

To curate an omnichannel customer journey, you should map the customer journey by following a data-driven approach to identify potential obstacles and touchpoints a customer has with your bank. Defining the customer journey ensures that your bank is not missing any customer touchpoints. It will also help you gain insights into the customers' usage, spending patterns, and major pain points to deliver an engaging banking experience.
Customise value propositions:
After defining a customers' banking journey, you should create a suite of products with unique features that will be useful for the customer at every stage. However, creating an engaging banking journey is not restricted to the mix of products and services you offer. Neobanks should avoid commoditisation and provide hyper-personalised banking services. Hyper-personalisation plays a significant role in driving customer acquisition and customer engagement. A consumer's demand and preference for banking services go beyond just their age, gender, where they live and how much they earn. You should capitalise on the vast volume of customer data and profile an individual customer's persona. You can then build predictive models using AI-ML technologies to develop a suite of customer-centric and tailor-made products that satisfy their distinct demands. Moreover, to stay relevant in future, a robust open banking system is imperative to integrate third-party services in your platform to reduce disintermediation.
Continually improve services:
The mix of challenges facing the digital banking landscape has forced neobanks to develop their product offerings continuously. The constant improvements will lead to a more distinct and sophisticated suite in a unique product stack. Your map of the customers' banking journey should be a constant work-in-progress. Continuous improvement has three major benefits for customer experience:
i. Improves the quality of products and services offered
ii. Decreases cost and waste
iii. Improves customer satisfaction
By tracking KPIs that measure the sale and use of your digital banking products (such as the Gross Merchandise Value), you can estimate their efficacy and popularity. Once you assess the product's popularity and identify roadblocks restricting the customers from using it efficiently, you can then devise a plan of action to make the appropriate changes. You can also co-create with your customers by collecting valuable feedback and suggestions from them through surveys and polls.
Endnotes:
We have sourced the details pertaining to the neo banking products from the respective neobanks' websites.