Singapore wants to be for technology players and that means anchoring them at the early stage of their development and allowing them access to the domestic banking market. – Ravi Menon, Managing Director, Monetary Authority Singapore
Regulatory initiatives:
Introduction:
After evaluating the potential opportunities and challenges of digital-only banks, the Monetary Authority of Singapore (MAS), on 28 June 2019, announced that it will issue up to 5 digital banking licences in addition to the banks established under the existing MAS internet banking framework.
The existing framework allows traditional banks to establish banking subsidiaries (digital spin-offs) or the partnership between a non-bank firm and a traditional bank (digital platform) to deliver neo banking services.
The announcement paves the way for leading financial technology, telecommunication, and internet giants to become operational banks in Singapore. Moreover, the effort of the regulatory bodies to issue a digital-only banking licence is to keep pace with the fast-growing advancements in the neo banking sector by their neighbours- Hong Kong and South Korea.
Types of licences:
The two types of licences granted by the MAS to carry out neo banking services are:
Digital Full Bank (DFB) licence: With a DFB licence, the neobanks will operate as a full-fledged digital banking service provider offering services including taking deposit from retail and non-retail customers, issuing loans and credit cards among others.
Digital wholesale bank (DWB) licence: Firms with a DWB licence can provide full-fledged banking services only to SMEs and other non-retail segments.
MAS licensing:
The MAS is all set out to issue two Digital Full Bank (DFB) licences and three Digital Wholesale Bank (DWB) licences. Out of the 21 applicants, 14 applicants comprising of five digital full bank applicants and nine digital wholesale bank applicants have qualified to the second level.
On 4th December, 2020, the MAS announced the names of the approved banks. It has granted two DFB and two DWB licences, one short of the number of licences it was expected to issue.
Table 1: Applicants who were awarded DFB and DWB licences
Name of partner institutions

 
Licence type  
Sea 
DFB 
Grab, and Singtel 
DFB 
Ant financial 
DWB
Greenland Financial Holdings, Linklogis Hong Kong, and Beijing Co-operative Equity Investment Fund Management
  DWB
Snapshots of Singapore's existing neobanks
Table 2: Profile for Singapore's neobanks
| | | | |
| --- | --- | --- | --- |
| Name | Founding Year | CEO | Annual Revenue |
| Digibank* | 2016 | Piyush Gupta | Not available |
| Frank* | 2011 | Samuel Tsien | Not available |
| Revolut | 2015 | James Shanahan | US$209.6 Mn (FY19)** |
| Aspire | 2018 | Andrea Baronchelli | US$536K (FY18) |
*These neobanks are built on their own parent banks' existing funds.
**Revenue across all countries
Note: The neobanks to be launched by Sea, Grab and Singtel, Ant financial, and Greenland Financial Holdings, Linklogis Hong Kong, and Beijing Co-operative Equity Investment Fund Management have limited or no information available.
Table 3: Learning list of Singapore's neobanks funding capital
| | |
| --- | --- |
| Name | Revolut |
| Total funds raised | US$ 917 Million |
| Total number of rounds | Over 15 rounds |
| Latest funding round- Series D | US$ 80 Million (July 2020) |
| | |
| --- | --- |
| Name | Aspire |
| Total funds raised | US$ 41.5 Million |
| Seed round | US$ 32.5 Million (Aug 2019) |
| Series A | US$ 9 Million (Mar 2018) |
In-depth neobank analysis on the 5-building block framework
Customer centricity:
All neobanks in Singapore provide their customers with an enhanced neo banking experience through their mobile application.
All four banks offer virtual assistance, real-time notification alert and use UI-UX design to create lucrative and user-friendly tools.
Digibank and Frank by OCBC use gamification for customer engagement.
Figure 1: Singapore's neobanks represent all customer centricity parameters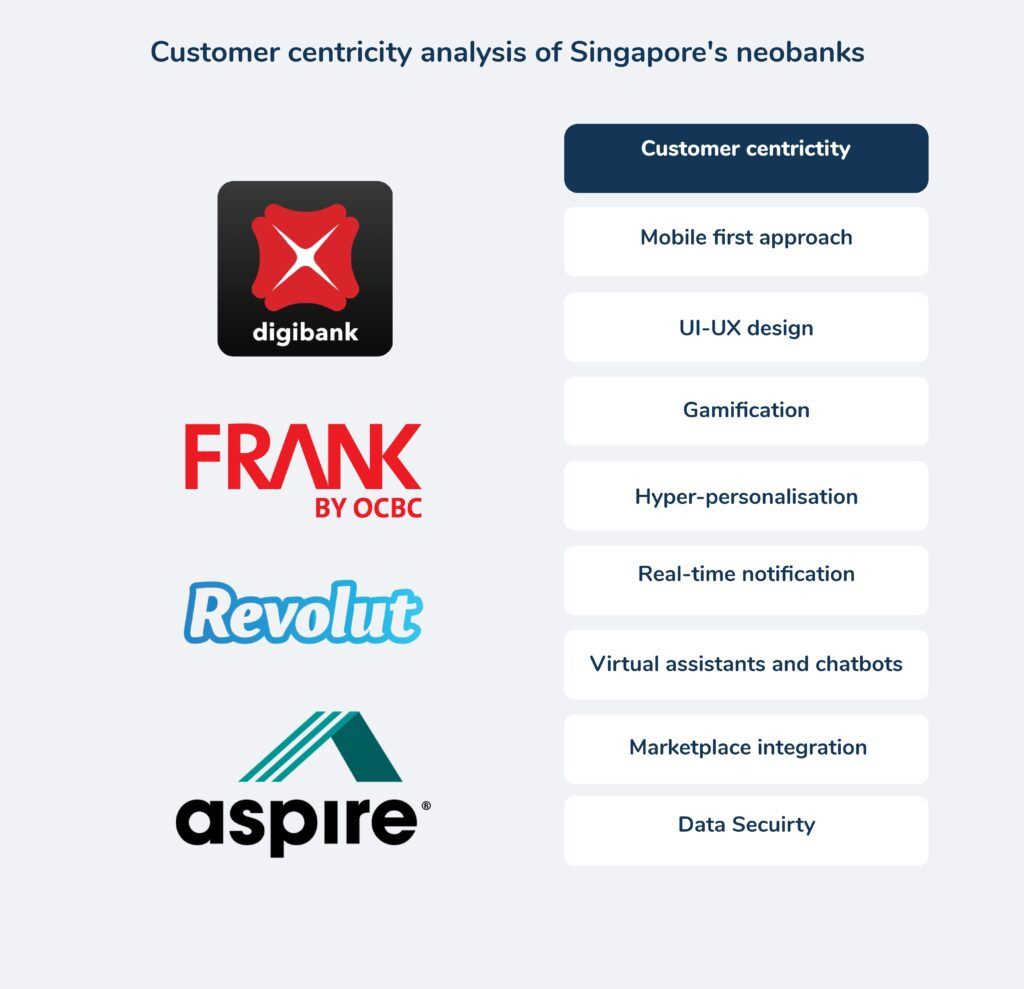 Customer reach:
62.5% of the neobanks in Singapore primarily focus on serving the millennial generation.
Figure 2: Customer segment and total number of customers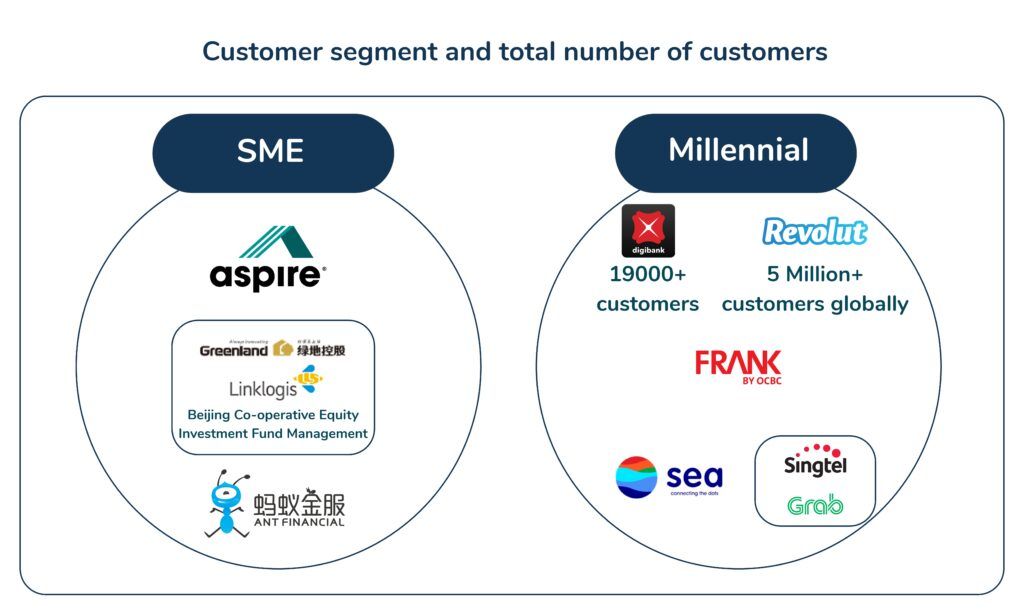 Product stack (Banking solution):
All 4 banks offer unique payments solution such as virtual cards and split payments.
Frank by OCBC has exclusive account options that offer exciting rewards and deals for local and international students under the age of 26.
Revolut offers a unique account that allows its users to open and manage unlimited multi-currency accounts in 28 currencies, and send or receive money locally and internationally without any hidden costs.
Digibank, Frank, and Aspire offer their customers unique lending options such as business/ personal overdraft facilities and credit lines.
Methodology: Each neobank product stack is a representation of 4 key parameters across 11 product types:
Unavailable: Does not have a product type in their stack
Testing: The product is currently in the pilot-testing phase, not live to all customers
Established: The product is a part of their stack and fully available for customers
Unique: A unique offering within a product type which is exclusively provided by the neobank
Figure 3: Representation of each neobank's product stack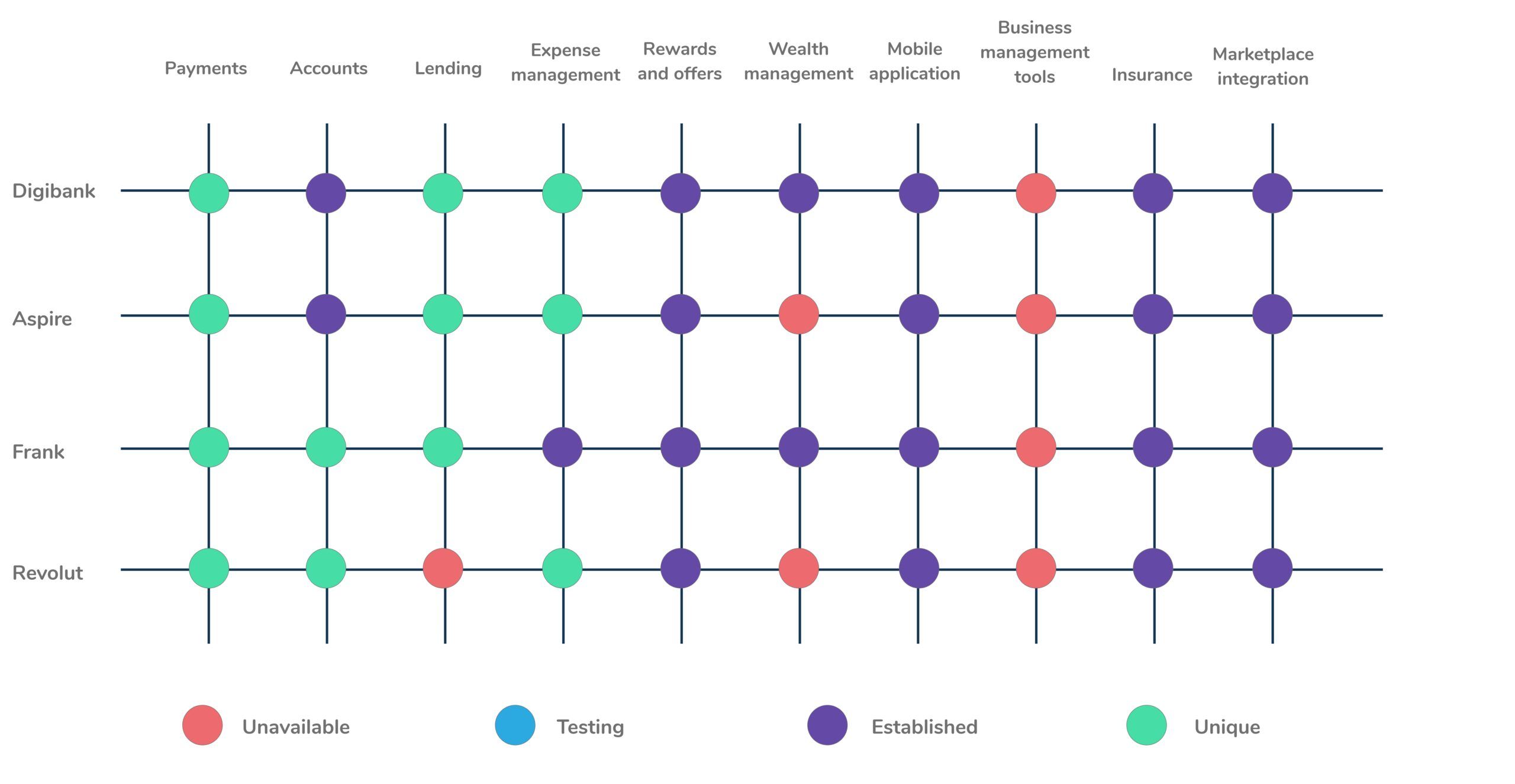 Partner ecosystems:
Aspire has partnered with RBL Bank, DBS, and Railsbank to offer banking services to its customers using the traditional banks' banking licence.
Other forms of partnerships include:

Analytics and insights
Digital marketing
Digital transaction
Network providers
Telecom partners
E-commerce merchant loaning partner
Insurance partner
Figure 4: Partnership ecosystem of Singapore's neobanks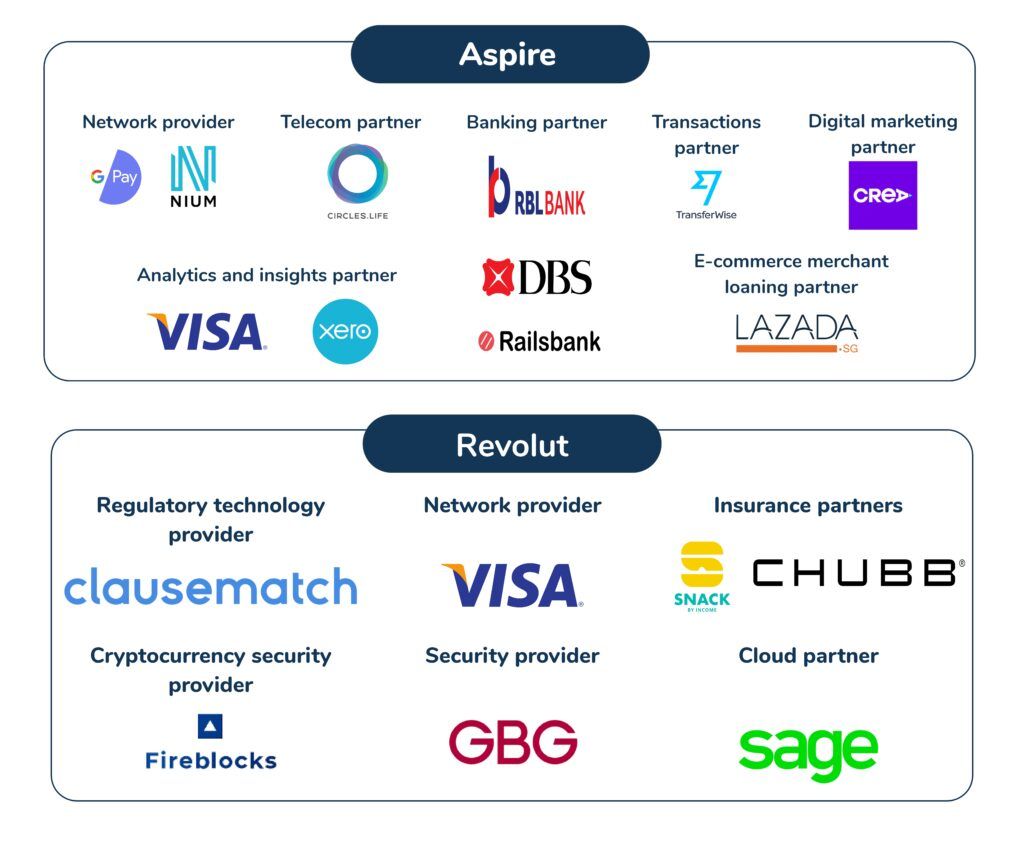 Open banking:
In a bid to integrate customers across different channels and to ensure seamless customer experience, the MAS and the Association of Banks in Singapore (ABS) published Finance-as-a-Service: API Playbook roadmap, which focuses on API regulation, implementation, cases, and design principles.
MAS has produced API playbooks containing 400 recommended APIs and over 5,600 processes.
Furthermore, in 2018, the government launched the API Exchange (APIX) to serve as a centralised data-sharing platform.
Table 4: API Developers for Singapore's neobanks
| | |
| --- | --- |
| Name of bank | Sandbox/Platform |
| Digibank | DBS developers |
| Frank | Connect2OCBC |
| Revolut | Revolut developer |
| Aspire | ReactJS Developer |
Singapore neobanks' outlook
Approximately 98% of the adult population in Singapore is banked. Moreover, there has been a significant demographic shift reflecting an increasingly ageing population. The stronghold of traditional banks in the country may make the sustainability of neobanks challenging as compared to other countries.
The 4 neo banking licences issued by the Monetary Authority of Singapore will boost competition in the banking sector. Moreover, Singapore's positive attitude toward the digitalisation of the banking sector can make the country as one of the top competitors in the global neo banking arena.
Furthermore, partnerships between fintech companies and consortiums formed between non-bank players will succeed in out-investing the leading traditional banks to offer innovative and personalised banking services beyond niche areas in the future.
Annexure:
Table 5: Names of investors of Singapore's neobanks
| | |
| --- | --- |
| Name of bank | Investors |
| Revolut | 37 investors |
| Aspire | Pioneer Fund and Arc Labs, Hummingbird Ventures, Beacon Venture Capital, Picus Capital, MassMutual Ventures Southeast Asia (MMV SEA), Y Combinator, David Langer, Wavemaker partners |
Note: The list is not exhaustive and is based on the publicly available data
End notes
We have sourced information pertaining to the funding value, round, customer base, revenue, and product information from Crunchbase, Owler, respective company's annual reports, and their websites.
Akshita Maruthavanan, Research Intern, contributed to this research by assisting in writing, conducting preliminary analysis and conceptualising the topic.