77.1% of all companies in Malaysia have adopted some form of public cloud and are rapidly continuing to do so. Digital Native Businesses (DNBs) account for 33% of the IaaS spending, translating to a value of US$ 53.6 million. This makes them the biggest spender of this segment in the local market. However, the top spending account is not from this industry and actually comes from the media & entertainment industry. The biggest IaaS spender is Astro, spending approximately US$2-3 million.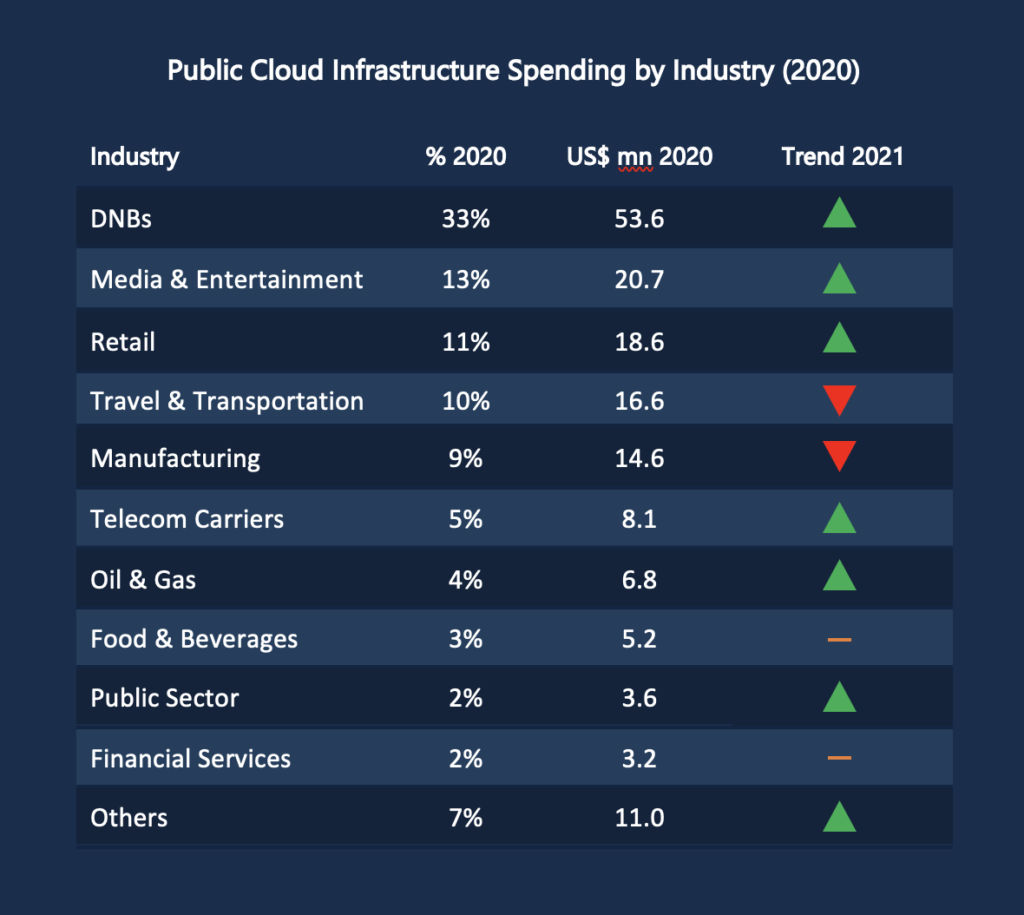 Source: Twimbit Research and Analysis
Why are industries using cloud?
DNBs are scaling up their operations
The E-commerce industry alone contributes 47% to the DNB spending. The current prediction is this sector will accelerate parallelly with the user penetration level of the country. This rapid growth stems from the relatively simpler procurement process and sales channel for DNBs to enterprises. Additionally, the rising number of start-ups, of which 96 are valued above US$100 million, are the key drivers for this sector. They are quick to leverage digital solutions, resulting in higher conversion rates for this particular sector.


Agility solutions for streaming and OTT media
Against the backdrop of a pandemic, companies within the media & entertainment industry had to find agile solutions in order to cater to the increasing usage of streaming platforms. Since the implementation of MCO back in March, viewership on streaming platforms increased by 32%. One example of such agility is Astro, initially known for a more conventional approach as a television provider. Astro has jumped onto the streaming landscape to keep up with the other streaming platforms. With Astro GO, consumers are treated to unlimited simultaneous recording and access to over 50,000 videos on demand stored in the cloud. As a result, Astro's viewership increased by 73% to 35 million viewers.


Stock keeping drove storage spending on cloud
Efficient inventory management is one of the most common challenges retailers face. This problem accelerated in the recent phase of the pandemic. Retailers and manufacturers use the cloud to manage warehouses and inventories in real-time. Local manufacturing giants, Hartalega and Top Glove are widely following these practices. Consequently, they invest around US$2 million on their ICT infrastructure every year.


Adoption within oil and gas on the rise
Cloud computing allows the use of remote servers hosted on the internet. Thereby, organisations within the oil and gas industry are able to analyse copious amounts of data at a lower cost, benefitting them greatly. On top of cloud infrastructure, cloud software are vital in their endeavour of digitising operations and service. For instance, SAP has allowed O&G players to monitor end-to-end commodity management, thus improving their supply chain. Evidently, Petronas sees the value in this shift and has gradually migrated their SAP system the onto cloud, replacing nine legacy systems and integrating their local deployments to an internationally managed solution. This has allowed them to accelerate their workload without the burden of a high cost, supporting the growth of cloud in this industry.
Factors hindering cloud spending
Data locality and security worries
64.7% of the Malaysian FSI sector were reported to be in the process of developing a cloud strategy. While that number looks promising, only a reported 11.7% ended up adopting some form of the cloud service. Despite the advantages of cloud, the FSI industry is still sceptical in accepting the cloud storage concept, especially when it involves third party providers. Data sovereignty and compliance obligations act as barriers for organisations within the FSI. They still struggle to navigate through the RMiT policy set by Bank Negara Malaysia (BNM). The very few banks adopting cloud, such as CIMB and Maybank, use public cloud services only for non-critical functions. These include R&D, prototyping and testing. Their average spending on cloud per annum averages between US$ 300,000 – US$500,000.


Cloud infrastructure not contributing directly to revenue
While businesses are slowly transforming their systems to digitally generate revenue and promote business continuity, many are still hesitant to partake in the digitisation trend – especially when it comes to cloud computing. A study found that only 32% of Malaysian enterprises are on some form of cloud service. This dismal number stems from the fear that adopting cloud does not directly contribute to the revenue of the business. While cloud does help improve business functions, it does not immediately add to the company's cashflow, causing many to turn away from embracing cloud. This only adds on to the woes of most Malaysian companies as they bear more traditional leaderships that tend to focus on revenue and factors that can endow it.


The perception of a complex end-to-end migration process
When it comes to the cloud computing space, there is an obvious lack of skills amongst Malaysians. A clear and present need is that of meeting the local demand of this rapidly growing market. The low supply of cloud infrastructure skilled personnel is causing an extremely low migration of users particularly in the more traditional industries such as real estate, agriculture and construction. This is because leaders are not hiring IT personnel that are available, pointing to unnecessary costs as a reason. Consequently, they are averse to cloud adoption as they fear the apparently complex maintenance and high initial capital cost. Some of these organisations are also unwilling to adopt cloud because they are afraid of losing control over their data since it will be managed by a third party.
Twimbit Takeaways
Regulatory changes
The first quarter of 2021 should witness the launch of the Cloud First Policy for the public sector. This policy will accelerate the usage of public cloud in the government sector which is familiar with private cloud services (1GovCloud). Potential areas for rapid growth include Ministry of Agriculture and Food Industries (MAFI), E-ladang & Agrobazaar, as well as Ministry of Domestic Trade and Consumer Affairs (KPDNHEP), driven mainly by consumers in E-commerce.

Providers to focus on use cases for gaining revenue
While it is evident that the cloud infrastructure market is growing rapidly, providers will need to find ways to ensure that this trend remains upwards. Conversations between providers and end-users may start to change as providers begin to focus on solutions that directly contribute to their revenues. For example, cloud providers may start honing in on OPEX models rather than CAPEX as organisations tend to shy away from massive capital investments.

Emergence of new partners
There is no doubt that partners are imperative in selling cloud services especially for enterprises in Malaysia. Partners allow for greater flexibility in terms of managed services, even optimising spending in some cases. For cloud providers, having a wide partner network in various industries helps in acquiring new customers. For the newer entrants, expanding the regional and local footprint will require the establishment of partners as well. Hence, both of these circumstances denote the possibility of new partners emerging in the market.