Digital consumption has become a part of the way we live. We interact with countless brands on a daily basis through their websites, apps, and social media accounts. With the potential to be overwhelmed by choices, it is critical for brands to keep customers engaged on their digital channels and create more value in their customer' shopping experience.
But how do brands know if they are doing well at getting their customers' attention? Most of the time traditional customer satisfaction scores do not take into account digital interactions. How can brands go about measuring their digital customer engagement scores?
In this article, twimbit discusses the reason why the digital engagement score is important, and highlights brands that ace customer engagement. We have also included some metrics brands should consider when evaluating their digital engagement levels.
What is a digital engagement score?
Digital engagement score evaluates how engaged one is towards the brand – ensuring customers' time is well spent.
Why should we measure it?
Existing measures are not holistic enough, does not provide enough context and does not truly capture what is relevant to customers
With most businesses leveraging websites and apps to reach out to a wider audience base, it is essential for them to gauge how close their digital customer-brand relationships are
On top of saving customers' time, brands should also make sure that they are spending customers' time well and customers should be positively engaged
Best practices
Alibaba: Winning customers with "social shopping"
To make the whole shopping experience enjoyable, Alibaba incorporates interactivity and a sense of community within its e-commerce app:
Taobao Live was introduced back in 2016
Real-time features such as reaction buttons and chatbox to submit comments forge a deep connection between viewers and the hosts
Generates trust and creates a strong recurring relationship with customers
ii. Gamification
Additionally, Taobao also encourages consumers to spend more time on its platform by introducing rewards. For example, it has introduced a "pet-raising challenge" on 2020 Singles' Day.
Consumers are required to feed their virtual cats with "Meow Coins"
Coins are earned from completing specific tasks such as browsing store pages, searching for products and inviting their friends to participate in the game
iii. Cultivating focused communities (Gen Z)
As an effort to extend its offerings, Alibaba has recently just released its social commerce app "Taibang". The app layout is visually appealing and is aimed at the Gen Z population. While the app is currently still in its beta phase, Alibaba ultimately wants customers to discover and purchase products on the Taibang app itself – allowing brands to establish a direct connection with customers.
Features of the app include:
Highlights on local Chinese designers brands
Outfit recommendations and inspirations with embedded purchase links
Chat feature to connect with brand managers and fellow users in the community
Outcomes:
Taobao Live's Gross Merchandise Value in FY2021 has reached $76.3 billion, seeing a 90% year-over-year growth.
On Singles' Day 2021, viewers spent an average of 33.9 minutes on the Taobao Live app, as compared to 20.8 minutes on JD Live (its competitor social commerce platform).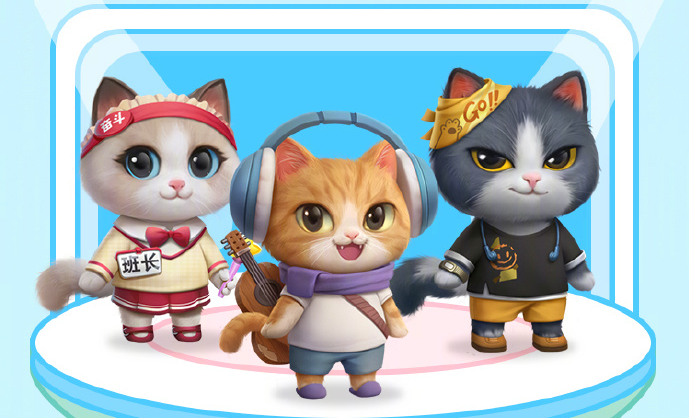 Picture from Tmall's Weibo
"Pet raising game" achieved more than 100 million active users on the day it was released.
2. AIA Vitality Program: Healthier together
This wellness program offered by the leading insurer utilises behavioral economics to encourage a healthy lifestyle. It includes personalised offerings such as:
Subsidised visits to dieticians, weight loss clubs, gym memberships, and discounts on healthy food and exercise devices
Tailored challenges based on individual health goals e.g. achieving 7,500 steps, getting vaccinated
Motivates users to carry out a healthy lifestyle by integrating rewards such as flight and hotel booking discounts into the program
Incentivizes healthy habits: the higher users' statuses, the greater the reward
Outcomes:
~2 million members of AIA Vitality in 11 markets
3. UpBank: Making money management easy with TikTok
UpBank Australia utilises TikTok extensively to reach out to its Gen Z and millennial audience. Its account features tips on financial management, product updates and challenges.
Recently, in line with its new brand "Easy Money", it has leveraged the social media platform to build better brand awareness and to strengthen its messaging. Together with TikTok, the digital bank launched its first-ever gamified branded effect:
Users are entertained with a coin catching game, where they are required to catch and munch flying coins
Prize: $1000 in cash for a randomly selected winner
Local artists and influencers also took part in the game, further spreading the brand name
Outcomes:
Hashtag #UpEasyMoney garnered >25 million views
250 user-generated content was produced by TikTok creators
Brand preference improved by 29%
How to measure digital engagement?
Based on your business, there are a lot of distinctive ways to measure how engaged your customers are with your brand. We have highlighted a few ways and examples to measure customer engagement:
Daily and monthly active users
Reflects the number of customers actively looking for your services through your apps or websites
Example: Naver, South Korea's top search engine, now achieves an average of 700 million monthly active users
2. Frequency of digital interaction
Provides insights into the share of interactions happening digitally and also reflects how popular your brand or product is.
Example: 93% customer interactions at NAB Bank are now happening through digital channels; 50% home lending appointments held over video
Example: Kuaishou recorded 1.5 trillion likes, 122 billion comments and 6 billion shares at the end of 2020
3. Average time spent
Indicates how engaging your brand's content is.
Example: The average time spent on Taobao Livestream increased by 25.8% in 2021
4. Attach rates
By measuring attach rates, you can evaluate the utilisation rate of your secondary offerings in relation to main products. This helps measure how satisfied your customers are with your brand – that they are willing to engage with you more.
Example: Grab's attach rate shows that users are using more of its secondary services over the years.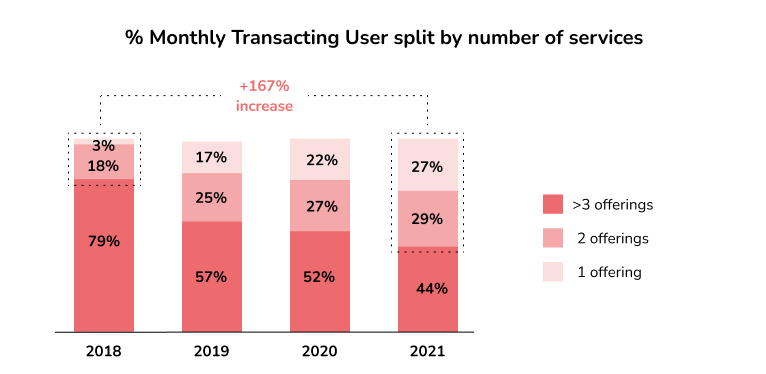 ---
References
https://news.nab.com.au/news/making-banking-easier-for-customers/
https://www.cbndata.com/report/2492/detail?isReading=report&page=1&readway=stand
https://www.dbs.com/annualreports/2021/files/media/dbs-annual-report-2021.pdf
https://topics.amcham.com.tw/2022/08/prioritizing-consumer-insights-and-safety-has-propelled-shopee-and-brands-to-success/
https://walkthechat.com/china-livestream-ecommerce-insights-and-new-trends/