As the world emerges from the Covid-19 pandemic, insurers expect profits and premiums to rebound – forecasting a 3.3% growth in 2022 globally1. However, rising price and labour costs, disruption by insurtech (insurance tech) companies, and the future of work are critical issues insurers will have to address in order to lead the competition.
twimbit analysed the top 3 challenges in insurance and highlighted key CX priorities that insurers need to focus on.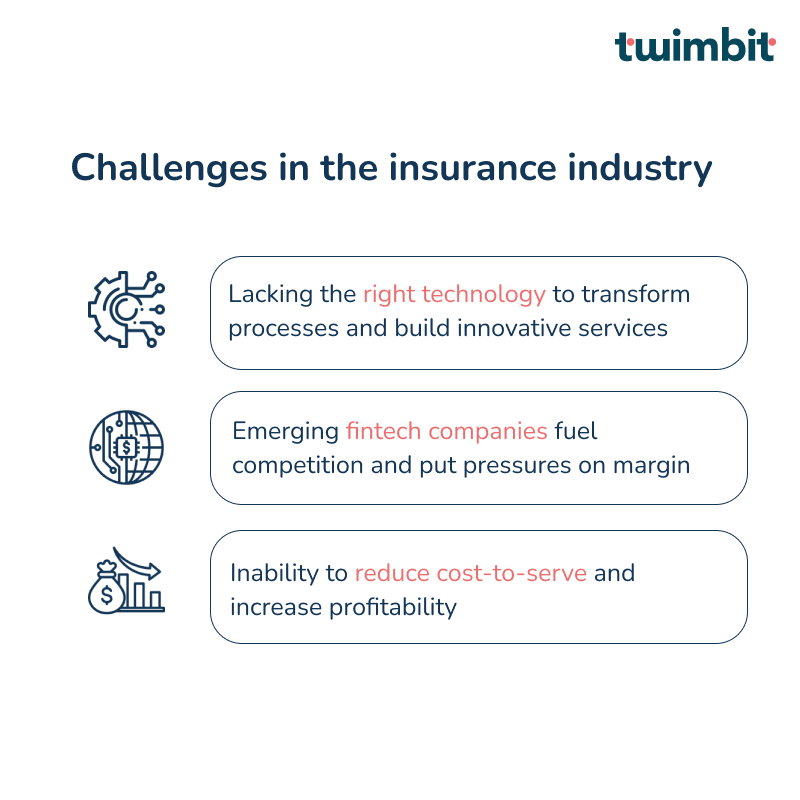 Top 3 challenges in the insurance industry
Digital transformation: There is an urgency to transform the business processes, enhance customer experience and build new innovative services. This level of urgency necessitates the transformation of legacy technology.
Competition from fintech: Global investment in insurtech companies is estimated at US$ 16 billion in 2021 with over 550 insure-tech deals2. This level of investment is fueling competition, putting pressure on margins.
Reducing cost to serve: In response to competition from non-traditional companies, incumbents need to transform their cost strategy by leveraging technology and creating leaner, more agile organisations.
Top insurance trends
Innovative product offerings
Customer expectations are changing. With digital adoption accelerating and hyper-personalisation surging in demand, insurers struggle to accommodate evolving needs. The low insurance literacy, especially in Southeast Asia, also poses a challenge – How can insurers better penetrate the market with personalised offerings for untapped individuals and households?
Emerging innovations insurers should consider:
Covering new risks
Travel insurance: In light of Covid-19, travellers are constantly searching for insurance packages that cover trip cancellation, have covid-19 coverage and provide trip delay benefits to minimise loss during unprecedented times. The "cancel for any reason" coverage is an exciting and popular offering, giving travellers peace of mind when planning trips in advance.
Other than travel insurance, new coverages offered by insurers to tackle evolving customer needs include rental property coverages, cybersecurity protection, flood and pet insurance.
New business models
i. Micro-insurance:
Low-cost coverage plan for low-income households
Breaks down traditional insurance into affordable products
Compensate lower valued assets, illness, injury or death
Examples include crop, disability, natural disaster, livestock insurance and more.
ii. On-demand insurance:
Usage-based / Pay-as-you-go coverage plan
Works on real-time data for short periods
Examples include lifestyle, sports, computer insurance and more.
2. Ecosystems and partnerships reduce friction in customer journeys
The best companies understand the value behind an ecosystem, with 6 out of 7 of the world's top companies being major players. And by partnering up, insurers can consolidate customers across different sectors while strengthening customer touchpoints. Here are a few benefits of partnering up:
Partnering with Insurtech companies allows incumbents to leverage their cutting-edge technology and digitise their offerings. For example, by utilising insurtech's mobile technologies, insurers get to extend their services and reach out to a wider audience via digital channels.
Participating in open insurance allows organisations to share and manage insurance-related data, including personal information. Consumers get to enjoy personalised experiences as businesses tailor offerings based on real-time data. On the other hand, insurers also get to enhance their operational efficiency due to faster transaction speeds and decreased data duplication. This is evident in services such as healthcare, mobility and connected homes, where shared data under strict regulation would benefit all parties.
Participating in embedded insurance enables insurers to bundle coverage with the purchase of productsEmbedded insurance also helps insurers to acquire customers at a lower cost via an existing channel, while keeping it simple and intuitive for the customer.
3. Digital innovation for a seamless and modern customer experience
It is no surprise that the younger generation prefers digital platforms over physical interactions. So, insurers need to keep up with customers' current preferences for digital processes. Also, the pandemic has encouraged the older generation to step out of their comfort shell and adopt a digital preference.
Google reported that 38% of customers who were not using digital processes before intend to utilise digital platforms in the future4

Furthermore, up-and-coming fintech startups are massively disrupting the market by offering quick, seamless and personalised services. To compete, traditional insurers have begun to embrace digitalisation by adopting innovative technology and modernising their platforms.
Insurers leverage digital channels for end-to-end customer engagement, such as virtual appraisal and digital selling. These initiatives start with cloud adoption as it provides organisations – the flexibility and scalability to implement innovative offerings.
Access to customer data allows more space for personalisation and for insurers to dive deeper into the "predicting and prevention" insurance model. And with stronger customer trust, insurers must ensure that data is stored safely and consistently – blockchain is one of the methods in consideration.
AI can analyse customer personality and tone to better recommend relevant products for customers. Moreover, AI simplifies self-service with chatbots. Complete with NLP (natural language processing) capability, chatbots can answer customer queries 24/7 on policy issuance, endorsement, cancellation and renewals. Also, Applied AI can generate analysis faster to produce a comprehensive risk profile for underwriting, harnessing high efficiency for the quote, bind and renewal processes in property and casualty insurance.
Top CX priorities for insurance
Maximise usage of customer data to personalise offerings
For predictive CX to happen, insurers should maximise customer data. Also, insurers should focus on curating exciting experiences by;
Gathering data throughout the end-to-end client processes
Providing transparency on how data is used
Create feedback options to obtain real-time sentiments at key decision points.
Curating and compiling large data sets will allow organisations to predict and personalise offerings rather than interact with customers only when compensation is needed.
Best practice: AIA Vitality
Utilise customer health data to encourage a healthy lifestyle
Track daily activities, e.g., sleep, workout, nutrition, etc.
Encourage customers to complete personalised challenges to obtain rewards
Unlock premium discounts on wellness fitness centres, opticians and airfares
~2 million members of AIA Vitality + AIA China's Wellness Program

1 million food logs uploaded on the AI food scoring tool
2. Increase the use of AI for claims
AI yields tremendous potential in the purchasing and claims space. With large amounts of client data available, the AI algorithm can;
Automate risk calculations and quotations
Speed up the insurance purchasing and claims process for customers
AI and machine learning prove a deadly combination, allowing insurers to always keep in touch with an individual's lifestyle. This leads to the provision of apt renewals that fit the client's needs throughout any phase of life, making the purchasing and renewal process much more seamless.
Best practice: Ping An
One-click insurance claims leverage AI to verify the damage incurred to the car through the customer's pictures
AI image recognition technology completes loss assessment with an accuracy rate of 95%
Utilises AI for the whole process from initial reporting, submitting digital pictures, and loss settlement to document handling
3. Redesigning workflows and customer journeys
Insurers should reimagine their customer journeys from the perspectives of both their employees and customers. One of the considerations for seamless communication is integrating functions across the organisation so that agents can serve customers faster and streamline end-to-end processes.
In light of the pandemic, contactless claims to handle and connect different vendors on a single platform will also be beneficial. For example, when one gets into an accident and requires assistance, the individual can reach out to the tow trucks, repair shops or rental car companies on the same platform for an easier handling process.
Best Practice: Pasar Polis
The Indonesian insurtech (insurance tech) company turns customers (ranging from ride-hailing drivers to furloughed employees) into partners to distribute and sell policies
Pasar Polis launched GoSure, a travel insurance service that customers can access through the Gojek ride-hailing app.
Pasar Polis helped 18 million people and households get insured (as of June 2021)
4. Proactive support is a differentiator
Insurers should allow 24/7 access to help – customers often require assistance during emergencies such as car accidents. Also, in place of an agent, smart chatbots can accommodate their customers all year round.
Best practice: Aioi Nissay Dowa Insurance
Integrates telematics claims service system with 24/7 claim assistance service "I'mZIDAN"
The system records road conditions and traffic light status with the help of Visual-SLAM technology, which calculates the location and speed of vehicles involved in an accident
Analyses accident situations and facilitates accident handling and out-of-court negotiations
24/7 and 365-day response to accidents
5. Delivering an effective omnichannel insurance experience
Insurers, like all industries, aim to create a single platform where customers get to learn and buy products seamlessly. However, insurance is complex. Until now, nothing can beat learning from an insurance agent who really understands the nuances of the product and the specific needs of the customer at hand. In moving forward, insurers must have one goal: craft a seamless digital journey with clear and easy-to-access touchpoints. This will help customers gain easy access to insurance agents whenever they need that extra piece of advice.
Best Practice: FWD
FWD created the FWD affiliate program that helps agents to transition from a predominantly face-to-face to a hybrid model. In doing so, they were able to;
Help agents reach out and interact with their customers through digital touchpoints
Facilitate building relationships with customers online and turn digital interactions into potential leads (generated 16,000 leads in 2021 in Indonesia alone)
Allow users to buy insurance products through their app if desired
Provides customers with the option to seek advice from an agent if needed
Utilises AI to help agents learn more about customer needs
Provides agents with these insights to eliminate repetition and build meaningful relationships with clients
References
1Swiss Re Institute. (2021). Turbulence after lift-off: global economic and insurance market outlook 2022/23. Retrieved September 7, 2022, from https://www.swissre.com/dam/jcr:ffcbad1f-9040-4aae-a94e-e4b1ce6c74bf/swiss-re-institute-sigma-5-2021-en.pdf
2Gallagher Re. (April 2022). Gallagher Re Global Insurtech Report, Q1 2022. Retrieved September 14,2022, from https://www.ajg.com/gallagherre/news-and-insights/2022/april/insurtech-report-for-q1-2022/
3Chung, V., Dietz, M., Rab, I., & Townsend, Z. (2022, May 8). Ecosystem 2.0: Climbing to the next level. McKinsey & Company. Retrieved September 15, 2022, from https://www.mckinsey.com/business-functions/mckinsey-digital/our-insights/ecosystem-2-point-0-climbing-to-the-next-level
4Google. (June 2021). Recent buying behavior trends that shape retail experience – think with google apac. Google. Retrieved September 15, 2022, from https://www.thinkwithgoogle.com/intl/en-apac/consumer-insights/consumer-trends/customer-expectations-meet-retail-opportunities/