A short study on Singapore's world-class government citizen services
The importance of delivering good government citizen services experience has recently taken centre stage. Instead of long lines and confusing procedures, citizens expect services to be swift and convenient. Now, it's not enough to just digitalise your services, it needs to also deliver citizens with better life outcomes.
Singapore has some of the best e-government services in the world. 86% of Singaporeans are either very satisfied or extremely satisfied with the government's e-services and 92% rated it as one of the best e-services they have used. The twimbit team has set out to identify the top 5 citizen services from Singapore and spotlight their key features. We hope this can be an inspiration to Customer Experience (CX) leaders across both public and private sectors around the world. Download the report to access the detailed findings of this study.
Our methodology
We identified seven pillars that define a great citizen-centric government service:
Efficiency – Able to use the e-service easily. Service provides clear and easy-to-follow instructions to complete the needed tasks
Reliability – Able to complete the needed e-service upon the first try. Service loads well either on desktop or mobile applications
Trust – Provides citizens with a sense of security that the service securely protects personal information
Citizen support – Able to receive help fast, whenever needed
Convenience – Able to complete the e-service with perceived minimal time, effort, and at any time
Compatibility – Matches the way citizens like to perform government services
Citizen satisfaction – Able to provide a service that citizens are satisfied with
Our analyst team thoroughly reviewed all secondary sources of information from different research agencies and annual reports of the government services. This was supported by a limited survey of Singapore citizens across the seven pillars outlined above to ensure that the secondary research findings were corroborated by the citizen survey.
Summary of findings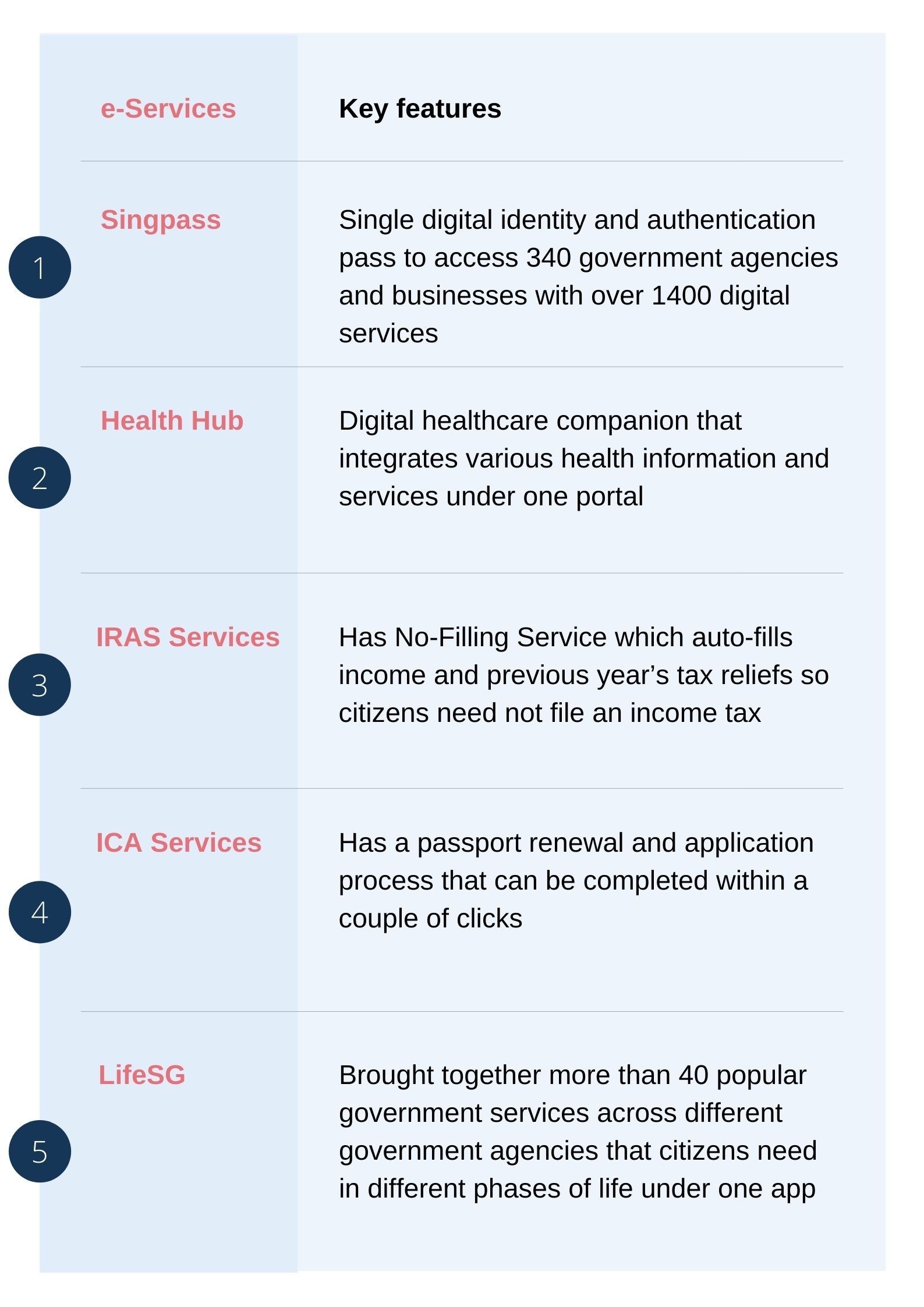 Summary of lessons from Singapore
Focus on citizen journeys and experiences – The best way to deliver a great citizen experience is to shift the question from "How do we deliver a particular service?" to "How do we solve this citizen pain point?"
Data-sharing across government agencies – Enable an environment where different government agencies can share information safely and streamline service deliveries
Partnering with the private sector – There is a need to incentivise private organisations to join forces and problem solve together as the private sector is part of the citizen journey too