Many customers look forward to a brand's loyalty program with hopes of being able to gain and spend their points on the rewards available!
However, this excitement gradually sizzles down within the first year of new members joining the loyalty programs. So here the question lies, are loyalty programs even effective for majority of the brands?
This report discusses what loyalty programs are, the different types of programs available, their success rates, what consumers enjoy about it, and what can be improved for better customer retention.
So, what are loyalty programs?
These programs are run to attract customers into becoming loyal to a brand, fostering long term loyalty.
This is done by rewarding members with various rewards like discounts, vouchers, gifts, and so forth.
Main types of loyalty programs
Point-based programs: Spend money to gain points or credits to redeem rewards! (i.e., vouchers, discounts, food, drinks, merchandise, etc.).
Tier-based programs: Spend money to unlock tiers for better rewards and benefits! (i.e., Better discounts, early access to sales, etc.).
Subscription-based programs: Pay a fee to gain access to benefits and rewards!
Value-based programs: A portion of the money you spend on a brand will be donated to charity! (i.e., Donating to NGOs, charities, etc.)​
Key elements of a successful loyalty program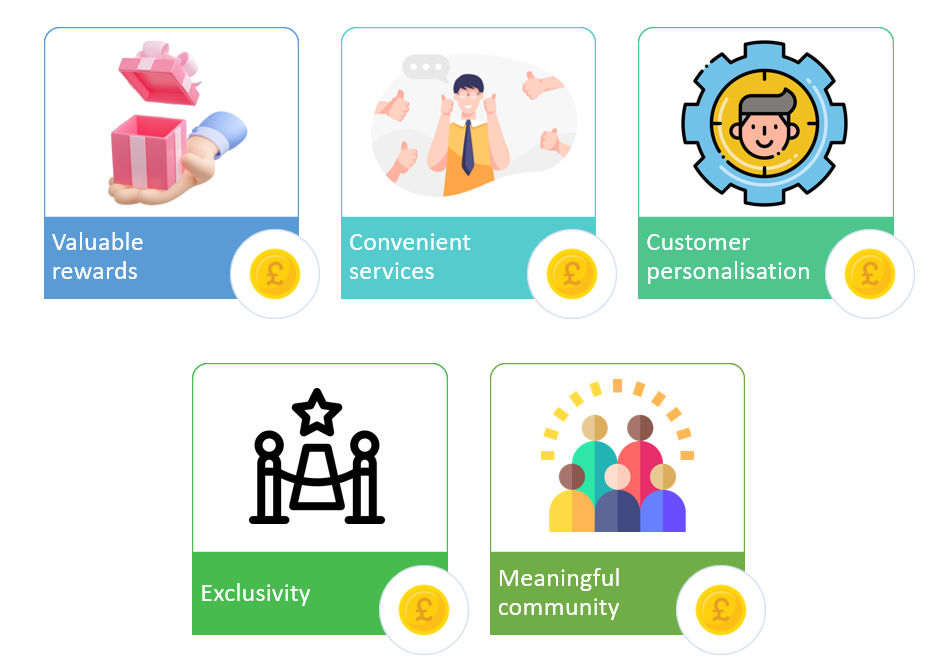 Success rates of loyalty programs
Most companies with their own loyalty programs are more engaged in attracting new prospects, rather than retaining their current customer base.
60 -70% of members drop their loyalty within the first year of joining a poorly designed loyalty program.​
Attracting new customers cost brands more and brings in about 1-2% increase in revenue as compared to retaining at least 5% of their current customer base which could bring in about 25% increase in revenue.
Why loyalty programs struggle to stay relevant for the consumer?
Difficult to gain points

Customers need to spend so much for so little (Spend $3 to get 1 point).​
Time-consuming.

Underwhelming rewards to redeem

Having to redeem low-value rewards for a large sum of points.​
Rewards are mainly available for new customers and long-time members, not for the members in-between.

Poor program design

Members tend to refrain from using programs with complex reward structures.​
The complex UI/UX makes it difficult for customers to navigate the software.

Lack of communication

Members forget the points/rewards they have hence reducing their consumption and loyalty to a brand.​

Members are unaware of interesting rewards/events to keep them engaged.​
Members are not emotionally attached to the brand.​
Staying Relevant by Prioritising Customers
Utilise customer data: Stay on top on your customer's likes and dislikes.

Allows businesses to personalise the rewards based on the interest and specific needs of the customer.​
Enhances emotional bonding.
Determine valuable rewards of the program (hard and soft benefits)


Keep engagements alive: Remind the customers of your brand and products to keep them interested.

Timely and relevant communication keeps the customer-brand relationship alive.​
Reminds the customer about the brand.​
Establishes a stable line of communication between customer and brand.


Design a customer-friendly system: A straight-forward program with a simple UI/UX layout will do wonders in keeping your customers loyal to your program.

Rewards must be worth equal/more than the points.​
Have rewards for customers for ever milestone of collecting points.​
A seamless UI/UX pleases and retains customers.
Your checklist to a stable and outstanding loyalty program
Have clear objectives for your program.
Identify a suitable customer segmentation to focus on.
Determine suitable rewards for your members.
Streamline communication between brand and members.
Pursue program and application personalisation for members.
Ensure the program and application are easy to use.
Utilise data analytics to understand members better.
Partner up with other brands for better rewards.
Experiment and iterate.