The Twimbit BPO EX Benchmark

About
| | |
| --- | --- |
| Headquarters | Paris, France |
| Year of Founding | 1978 |
| CEO | Daniel Julien |
| Number of Employees | 330,000 |
| Revenue 2019 | USD6.24 Billion |
| Key EX Awards | Forbes' annual list of America's Best-in-State Employers 2020, Teleperformance Spain awarded as Great Place to Work for Women, 2021 |
Teleperformance is an omnichannel company that provides customer acquisition, customer care, technical support, debt collection, social media, and other services worldwide.
Mission
At Teleperformance, we deliver an outstanding customer experience at every single opportunity as a result of our commitment, passion, and dedication to excellence. In so doing, we create opportunities and value for employees, clients, customers, communities, and shareholders.
Highlights
69% non-agent positions filled internally
70% of employees working at the best employer subsidiary
A dedicated higher education program called Teleperformance University offers customized college courses to help employees improve themselves personally and professionally
'JUMP' – a program that helps to identify and train employees who show leadership skills
49% – Percentage of women in Teleperformance Group
Teleperformance provides excellent employee experience on a massive scale
Recognize that employee satisfaction is key to the success of a company and that it is necessary to approach this goal strategically with comprehensive programs in each area
Use the resources of the company to offer state-of-the-art-technology but account for the local cultures in the 80 countries they do business (i.e., balancing hi-tech with hi-touch); Teleperformance is a global company but operates as local businesses
Focus on being able to effectively and consistently scale and roll out new programs and improvements to over 380,000 people globally; Teleperformance accounts for the unique cultural differences by country (i.e., the United Cultures of Teleperformance) to ensure understanding and enthusiasm and compliance
The company has a stated goal to follow CSR (Corporate Social Responsibility) best practices which drive initiatives related to local charities, climate change, and diversity and inclusion
Focus on enabling employees to achieve their full potential and get maximum incentives and opportunities
Communication
The company meets the required baseline, plus:
Every year, the company has several open discussions to encourage discourse among employees and allow them to share their views on how to achieve Teleperformance's goals
The annual employee satisfaction survey (e-Sat) measures Teleperformance employee satisfaction and engagement
The company has several communication programs that include ''Chat with the CEO'' program, focus groups, and Interactive Talk
These programs bring Teleperformance leadership closer to the team by creating an ongoing two-way dialogue
Teleperformance Leadership conducted several townhall sessions across its locations globally as part of the company's continuous mission to protect employees and ensure their safety during a global health pandemic
The primary objectives are to express appreciation for all employees, provide updates on the company's actions to ensure employee safety (which includes social distancing practices and PPE delivery), and give employees a much-needed motivation boost and assurance that the company is together with its employees throughout the crisis
United Cultures of Teleperformance program enables the company to scale across multiple cultures in 80 countries and focus on sharing best practices and how to replicate them successfully in each country
Technology
The company meets the required baseline, plus:
Teleperformance has an employee-focused mobile app, MyTeleperformance
These solutions help provide important information to employees from anywhere and at anytime
Teleperformance has a powerful Work from Home cloud-based collaboration platform. The said platform enabled 80% of the workforce to work remotely in 10 weeks at the onset of the pandemic.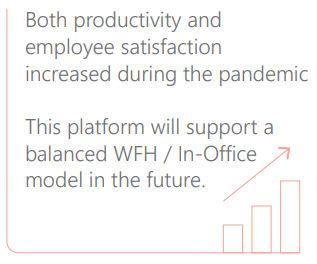 Voice of Employee
The company meets the required baseline, plus:
The annual employee satisfaction survey (e-Sat) measures Teleperformance employee satisfaction and engagement
The company has several communication programs that include ''Chat with the CEO'' program, focus groups, and Interactive Talk
These programs bring Teleperformance leadership closer to the team by creating an ongoing two-way dialogue
Learning and Development
The company meets the required baseline, plus:
Teleperformance provided 4.19 million training hours last year worldwide, which is approximately 127 training hours per employee
JUMP! is a development program created to identify and prepare high-potential employees to take on leadership positions in the company
Teleperformance University is a customized college course that transmits culture while gathering and sharing its worldwide best practices and innovative projects in customer relationship and experience management
Teleperformance Academy is a facility exclusively designed for various and diverse training initiatives.
The Teleperformance e-Institute is an e-Learning platform that ensures that all executives are trained in the group's best practices and other management skills to calibrate knowledge levels all around the world
Future investments in additional executive education for management with MBA style courses
Social Connection
The company meets the required baseline, plus:
Volunteer Work
As part of the group's charitable initiative, Teleperformance established Citizen of the World (COTW) in 2006 to help the world's most vulnerable children and their families meet their needs
Core objectives include making the company's charitable efforts systematic and participative for all Teleperformance employees and entities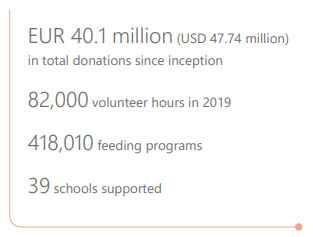 Sustainability Goals
The Citizen of the Planet initiative aims at reducing the Group's emissions, with a focus on energy consumption which represents 87.4% of its carbon footprint
The Group measures, monitors, and reports on energy/carbon, water, paper, and air travel performance covering its global operations
When selecting a new site, Teleperformance considers environmental aspects into the selection process and wherever else possible
Teleperformance has committed to continuously reducing its carbon footprint per employee
In 2019, the Group's carbon footprint was 0.682 tons per employee, a decrease of -4.21% vs 2018
Diversity and Inclusion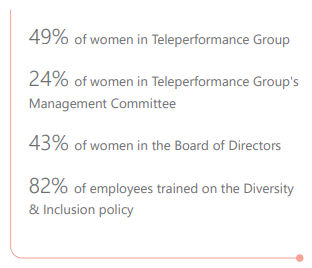 Rewards and Benefits
The company meets the required baseline, plus:
The company provides comprehensive benefit packages that are localized to meet the specific needs and cultures of each country
More than 60% of Teleperformance employees gain from extra holidays in addition to the local statutory allowance
Around 80% of employees receive partially or fully subsidized meals, depending on local laws and customs: access to a canteen, restaurant vouchers, or food purchase vouchers
Many subsidiaries negotiate reduced prices for their employees, usually with restaurants located near the office
80% of subsidiaries offer discounts or free access to gyms and other sporting activities
70% of subsidiaries offer employee discounts to cultural activities such as movies, concerts, shows, exhibitions, etc
Lessons to be Learned
Continuously improve top-quality operations on a massive, global scale
Balance hi-tech and hi-touch to achieve high levels of employee engagement and satisfaction
Develop comprehensive learning and development programs to train and recruit for leadership roles from within the company and to help employees improve both personally and professionally
Provide excellent employee experience on a large scale by continuously discussing and revaluating policies regarding employee experience and engagement
Quotes About Teleperformance
The best thing about working at Teleperformance is the people! Getting to see people grow professionally and taking on new roles. It is the best source of positive energy for me when I take on my daily tasks and challenges. Viktoria Hafredal, Contact Centre Manager, TP Norway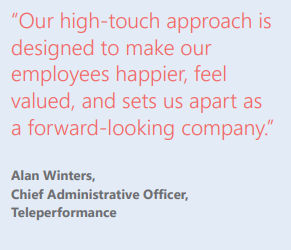 More than 60% of the entire workforce at TP in Brazil are women, while women hold 53% of leadership positions. This has been a natural process, made possible because the company values competence. Rather than resulting from stringent policies that facilitated this high percentage of women in the workplace and leadership roles, this status came from a forward-looking mentality that puts professional competence first. When we have a balanced management with men and women, we have a better chance of success.
Simone Nunes, Director of Human Capital, TP Brazil